WE'RE IN THIS TOGETHER.
Celebrate the holidays with crowd-pleasing Thanksgiving ideas!
As the unpredictability of 2020 comes to a welcome close, we all look optimistically to the future. Finding our way through the evolving, yet still challenging landscape together, Margherita continues to be committed to offering a wide variety of versatile products, solutions and menu inspirations to help operators to help operators build their businesses. Please feel free to contact us at any time to assist with any challenges you may be experiencing. Our website is also dedicated to sharing helpful resources.
Please visit: SmithfieldCulinary.com/Here-For-You.
There's more to Thanksgiving dinner than turkey.

A holiday classic gets some company.
As the weather gets colder, people immediately start planning for holiday meals. And for millions of families that means only one thing, time to buy a turkey. A whopping 86% of American households feature it as the main dish!1 Considered to be the always-impressive centerpiece to a traditional Thanksgiving dinner, turkey is the American holiday mainstay, or is it? Throughout the year in 2018, the percentage of people who eat turkey remained relatively steady at the 50% range. But consider that: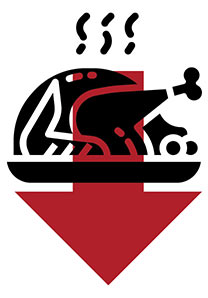 Turkey's popularity has
decreased almost 6% IN THE
PAST FOUR
YEARS.2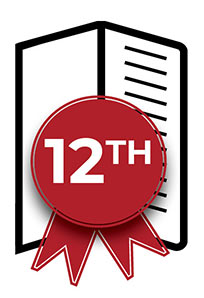 On a list of "Most Popularly Menued Proteins", TURKEY CAME IN
AT 12TH PLACE.3
Raises the question: If turkeys are such a popular dish during the holidays, why are they doing so poorly compare with other center-of-plate dishes? The answer is that outside of Thanksgiving, turkey is not a popular protein. Why? Because turkey is a labor-intensive, temperamental dish. It takes a long time to defrost properly. It's easily overcooked. It frequently dries out. And then, quite frankly, there's the taste. When put side to side with other poultryand meat dishes, turkey has relatively drier, less flavorful meat.
1. YouGov, "What America Eats on Thanksgiving" (2019)
2.-3. Datassential, 2020
So, what's moving in on turkey's traditional territory?
Probably second in popularity, hams are considered another holiday favorite. According to The Washington Post, 15% of the U.S. ate ham during Thanksgiving.4 This is equivalent to 24.75 million pounds of ham! But hams do not have to be the only other center-of-plate feature during the holidays. By offering more "unconventional" proteins, there are still ways to add unique flavors. Whether it's a rack of ribs, smoked brisket, roasted pork belly, slowcooked pork shoulder and so much more, these unique proteins are truly versatile and can enhance and differentiate a holiday meal.
Whatever the occasion, Margherita is here for you to deliver on-trend insights and the inspired flavors and products that your customersseek for the holidays.
Some unconventional and underutilized cuts of meat, and their current growth in usage, that can be considered for holiday dishes.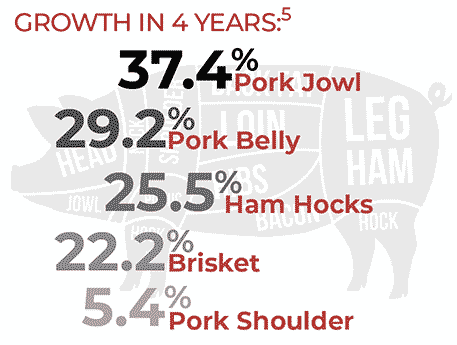 What's on the side can make a big difference.
While the protein is often seen as the center-of-the-plate star of holiday meals, one way to make meals even more memorable is by offering your customers flavorful side dishes to enjoy alongside it.
Although sides are considered by many to be quintessential comfort foods during the holidays, there are several ways to truly make them a tasty treat by adding unique flavors to enhance these traditional side dishes. (Note: % indicates consumers who prefer a certain side.6)
Add smoked sausage, figs and butter, a combination of sweet and salty, for a rich and savory stuffing.
Loaded baked potatoes are increasingly popular. Consider addingthe same ingredients, sour cream, bacon, cheddar cheese, scallions and a good amount of butter, but in mashed potatoes instead.
Sweet Potatoes & Yams (
31%

):
Mac and cheese has become one of the dishes that is the most customizable. Adding different types of cheeses, toppings,
herbs/garnishes creates totally new tastes to enjoy.
Loaded baked potatoes are increasingly popular. Consider addingthe same ingredients, sour cream, bacon, cheddar cheese, scallions and a good amount of butter, but in mashed potatoes instead.
4. Washington Post, "Ham for the Holidays" (2019)
5.-6. YouGov, "What America Eats on Thanksgiving" (2019)
Holiday without the hassle.
Carryout is more popular than ever, and there's no indication it's going to slow any time soon. With an incredible 70% of consumers ordering for takeout or delivery, having an appealing and efficient to-go menu is essential for any restaurant operation.7
Many consumers, notably younger ones, feel more comfortable getting food off-premise. So,
offering foods that hold well in packaging that keeps food fresh/warm and especially that taste
great is important. Consider that:8


Regardless of how carryout cravers get their order, having effective packaging for each item is essential. To make customers feel that you took the time to put together their holiday meal, you can separate the main course from the sides, generally in their own containers, and provide separate containers for dressings, sauces or toppings to maintain each item's integrity. Thank-you notes and coupons for future visits can also make customers feel more special during the holiday season!
7. Technomic & NRA, 2019
8. Datassential, COVID-19 Report #35, 10/2/20
To discover how Margherita can help satisfy all of your carryout customers' food cravings while building your business, contact your sales representative or call 888-327-6526.
Everything you need to know about Margherita products, recipes and more: Download our Margherita App