Breakfast Sausage Stir Fry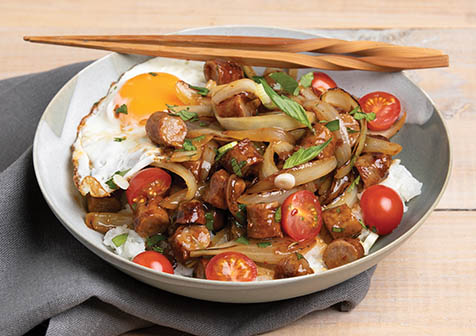 Ingredients
1 cup ketchup
2 cups soy sauce
½ cup sambal olek
½ cup mae ploy
½ cup sugar
1 cup hoisin sauce
2 cups jasmine rice
5 cups water
½ cup mirin
¾ cup canola oil
6 breakfast sausage patties
3 cups Chinese green beans
1 tablespoon toasted sesame seeds
kung pao sauce
Preparation
Kung Pao Sauce
Place a small saucepan on medium heat.
Add soy sauce, ketchup, sambal olek, mae ploy, sugar and hoisin.
Using whisk, mix all ingredients to incorporate.
Allow to simmer for 10 minutes. Reserve.
Sticky Rice
Wash rice in a colander until water runs clear.
Place 5 cups of water and washed rice in a small saucepan.
Cover and place on low heat until water completely reduces.
Remove from heat and add mirin.
Stir Fry
Using gloved hands, gently tear sausage to 1 inch pieces. Reserve.
Using french knife, cut greens beans into 3 inch pieces.
Place wok pan on high heat.
Add canola oil, sausage and green beans.
Using metal tongs, move sausage and green beans.
Allow sausage to sear and green beans to blister.
Add 2 cups of kung pao sauce to wok and mix to incorporate.
Place 2 cups of sticky rice in each bowl.
Top with stir fry.
Garnish with toasted sesame seeds.
To order, contact your Smithfield Culinary sales representative, call 888-326-7526 or contact us for more information.
Email Recipe