Ham, Aged Cheddar and Roasted Apple Dutch Baby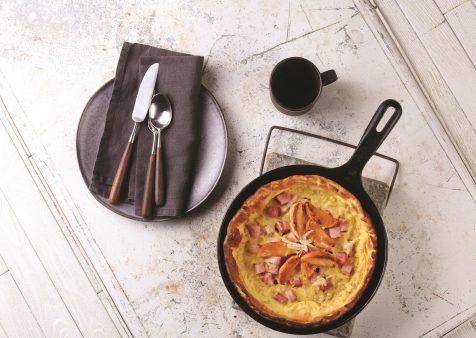 Ingredients
¼ cup + 1 Tbsp all-purpose flour
1½ Tbsp. granulated sugar
¼ tsp. salt
¼ cup whole milk
2 eggs
2 Tbsp. butter
3 oz. Smithfield Cubed Ham
1½ oz. shredded aged white cheddar cheese, plus shaved for garnish
Sautéed Apples (recipe follows)
Sautéed Apples
2 Tbsp. butter
3 gala apples, peeled, cored and cut into wedges
3 Tbsp. brown sugar
½ cup apple cider
¼ tsp. salt
Pinch nutmeg
½ tsp. chopped fresh thyme
Details
Product:
Smithfield Cubed Ham
Preparation
Mix flour, sugar, salt, milk and eggs together in blender, or mix dry ingredients, and then add wet ingredients. Mix well. Allow batter to sit for a couple of hours.
Preheat oven to 400°F (convection) or 425°F (conventional).
Heat 8-inch sauté pan for several minutes to get it very hot.
Remove from oven, and swirl butter in pan.
Heat pan a little bit more, and then add batter.
Sprinkle ham and cheese evenly over surface of pancake, allowing a little edge around the outside.
Bake 12-15 minutes or until batter is fully baked.
Remove from oven, and garnish with Sautéed Apples, and garnish with additional shaved cheddar.
Sautéed Apples
Heat sauté pan over medium-high heat.
Add butter, and melt, and then add apples.
Sauté until golden brown on both sides.
Add brown sugar, cider, salt, nutmeg and thyme, and cook just long enough to reduce cider to a more syrupy consistency.
Remove from heat, and reserve for garnish.
To order, contact your Smithfield Culinary sales representative, call 888-326-7526 or contact us for more information.
Email Recipe