Mongolian-Style Beef Dumplings with Spicy Mustard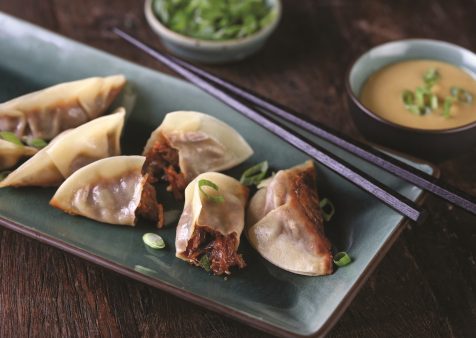 Ingredients
2 Tbsp. minced ginger
1 Tbsp. minced garlic
½ cup low-sodium soy sauce
½ cup brown sugar
¼ cup cornstarch slurry
1 lb. Smithfield Smoke'NFast Pot Roast, chopped
½-¾ cup chopped scallions, for filling and some reserved for garnish
24 dumpling wrappers
2-3 Tbsp. canola oil
½-¾ cup water
Spicy Mustard (recipe follows)
Spicy Mustard
4 Tbsp. mustard powder
½ tsp. salt
½ tsp. white pepper
3 Tbsp. water
2 tsp. canola oil
2 tsp. rice vinegar
Preparation
Heat sauté pan over medium-high heat.
Add minced ginger and minced garlic, and cook until fragrant and starting to lightly brown.
Add soy sauce and brown sugar, and bring to boil.
Whisk in cornstarch slurry made with pot roast juices, bring to boil again, and allow sauce to thicken.
Add chopped pot roast, and mix thoroughly.
Cool mixture, and fold in chopped scallions.
Form into dumplings, adding approximately ¾-1 Tbsp beef mixture to each dumpling wrapper, and then pinch at top, creating pleats while sealing edges.
Sear in hot pan with canola oil, then add water to pan, and cover immediately to steam until dumplings are tender and heated through.
Plate 3 dumplings per serving, garnished with sliced scallions and served with Spicy Mustard.
Spicy Mustard:
Mix mustard powder, salt and white pepper.
Add water, and stir.
Mix in oil and rice vinegar.
Adjust to desired heat and acidity.
To order, contact your Smithfield Culinary sales representative, call 888-326-7526 or contact us for more information.
Email Recipe