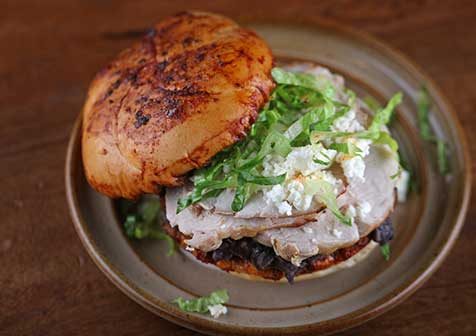 Ingredients
1 orange, juiced
1 Tbsp. Mexican oregano
1 clove garlic, sliced
½ medium onion, sliced, divided
2 Tbsp. salt
2 oz. canola oil
2 telera tortas or Kaiser rolls
Guajillo Salsa (recipe below)
1 14-oz. can refried black beans, warmed
6 oz. romaine lettuce, shredded
1 avocado, sliced
6 oz. queso fresco
Guajillo Salsa
1 8-oz. can guajillo chiles
2 limes, juiced
¼ bunch cilantro
½ cup water
2 tsp. salt
Details
Product:
Pork Loin
Meal Course:
Dinner, Lunch
Dish Type:
Entrée, Sandwich
Preparation
Marinate pork loin in orange juice, oregano, garlic, 1/4 sliced onions and salt. Place in resealable plastic bag for 15 minutes to overnight for more flavorful piece of pork.
After pork has marinated, place pork loin in preheated 350°F oven on sheet pan, and roast 15 minutes or until pork reaches 150°F.
Once pork is cooked, remove from oven and let rest 5 minutes before slicing into 1/4-inch slices.
Heat up dry skillet, and add canola oil. Dip bread into Guajillo Salsa, and then toast in skillet.
Remove bread, and on bottom half, spread warm black beans, sliced pork loin, shredded romaine, remaining sliced onions, avocado and queso fresco.
For Guajillo Salsa, in a blender, place all ingredients and puree until smooth. If too thick, thin out with more water if needed.
To order, contact your Smithfield Culinary sales representative, call 888-326-7526 or contact us for more information.
Email Recipe