Pulled Pork Grilled Cheese with Green Tomato Soup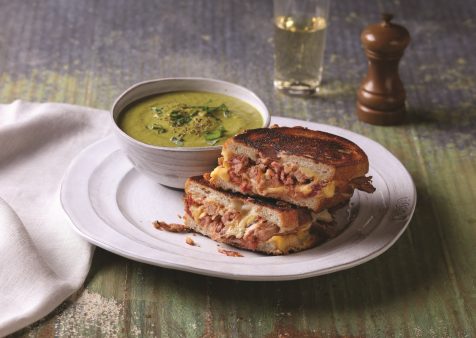 Ingredients
1 tsp. olive oil
1 garlic clove, minced
1 Tbsp. brown sugar
1 oz. cider vinegar
1 tsp. Dijon mustard
1 lb. Smithfield Smoke'NFast Pulled Pork
1 oz. very thinly sliced white onion
Salt and pepper, to taste
2 oz. soft butter
8 slices sourdough
4 thinly sliced mozzarella slices
4 American-style cheese slices
Green Tomato Soup
1 lb. green tomatoes, cut into large chunks
3 garlic cloves, halved
1 small white onion, cut into large chunks
1 Tbsp. extra virgin olive oil
½ cup chicken stock
2 cups chopped fresh kale
1 tsp. fresh lemon juice
½ Tbsp. chopped fresh basil
½ Tbsp. chopped fresh parsley
Salt and pepper, to taste
Preparation
In sauté pan over medium heat, add olive oil, garlic, sautéing for a minute.
Turn heat to low, and add brown sugar, cider vinegar and Dijon mustard, stirring to dissolve sugar and create a simple sweet-and-sour–type sauce.
Add pulled pork and onions, and cook for 1-2 minutes to warm, seasoning with salt and black pepper. Set aside.
Spread butter on one side of each bread slice, and with buttered-side down, add a slice of each cheese to 4 slices bread.
Add dressed pulled pork to those 4 bread slices, using remaining halves as tops, with buttered-side up.
On griddle or in large pan on medium-low heat, cook sandwiches until golden brown on both sides with thoroughly melted cheese.
Green Tomato Soup:
On sheet tray, toss tomatoes, garlic and onions in olive oil, and roast at 425°F for approximately 30 minutes, turning as needed to cook evenly.
In small pot over medium-low heat, cook chicken stock and kale, covered, for 7-8 minutes until kale is tender.
Combine above with all remaining ingredients except salt and pepper in blender, and blend until smooth; season with salt and black pepper.
To order, contact your Smithfield Culinary sales representative, call 888-326-7526 or contact us for more information.
Email Recipe