Thai Salad with Sausage Crumbles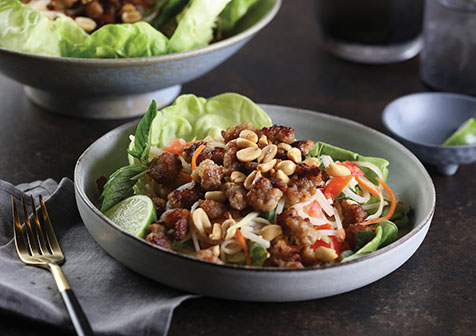 Ingredients
3 small garlic cloves, peeled
¼ tsp salt
1 Tbsp dry-roasted salted peanuts, more for garnish
2 fresh Thai chiles or serrano chiles, sliced
½ Tbsp raw sugar or palm sugar
1 Tbsp dried shrimp (optional)
2 Tbsp fresh lime juice
1 to 2 Tbsp fish sauce (nam pla), to taste
2 Roma tomatoes, coarsely chopped
½ lb long beans, trimmed and cut into 1½-inch lengths
1 medium green (unripe) papaya
1 medium carrot
2 Tbsp vegetable oil
12 oz Smithfield Sausage Roll
Salt and pepper, to taste
Lettuce, for serving
1 Tbsp fresh Thai basil
1 lime, cut into 4 wedges
Details
Product:
Breakfast Sausage Roll
Meal Course:
Dinner, Lunch
Dish Type:
Soup/Salad
Preparation
In blender or with mortar and pestle, blend or pound garlic, salt, peanuts, chiles, sugar and shrimp (if using) into a paste. Transfer to large bowl, and mix in lime juice and fish sauce. Use spoon (or pestle) to lightly crush tomatoes; then add to bowl with beans, and mix lightly.
Peel and coarsely grate or shred papaya, discarding seeds and inner membrane. Do the same with carrot. (Alternatively, Japanese mandoline could be used with julienne blade.) There should be 4-6 cups.
Heat up skillet, add vegetable oil, and cook sausage, breaking it into small chunks, while cooking and stirring constantly. It should take 8-10 minutes.
Add papaya and carrots to bowl, and lightly but thoroughly toss together. Taste for seasoning. Mound in bowl lined with lettuce. Top with cooked sausage, and garnish with Thai basil and salted peanuts.
Serve with lime wedge.
To order, contact your Smithfield Culinary sales representative, call 888-326-7526 or contact us for more information.
Email Recipe