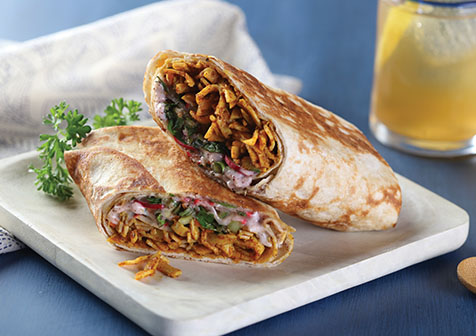 Ingredients
½ tsp freshly ground black pepper
½ tsp ground coriander
½ tsp ground cumin
½ tsp smoked paprika
¼ tsp ground cinnamon
¼ tsp ground turmeric
Pinch cayenne pepper
12 oz Smithfield Turkey Lunchmeat
4 Tbsp unsalted butter, divided
2 Tbsp vegetable oil, divided
1 tsp fresh lemon juice
1 small red onion, halved, very thinly sliced
2 Roma tomatoes, cut in half, thinly sliced
2 medium Persian cucumbers, cut into matchsticks
1 medium carrot, peeled, cut into matchsticks
4 radishes, trimmed, thinly sliced
1 Tbsp red wine vinegar
2 cups mixed tender herbs (mint leaves, parsley leaves)
Kosher salt, to taste
3 pieces Arabic saj bread or 6 12-inch flour tortillas
1 garlic clove, finely grated
1 tsp finely grated lemon zest
Details
Product:
Deli Turkey
Meal Course:
Dinner, Lunch
Dish Type:
Sandwich
Preparation
Mix black pepper, coriander, cumin, paprika, cinnamon, turmeric and cayenne in small bowl.
Julienne sliced turkey lunchmeat.
Heat 2 tablespoons butter and 1 tablespoon oil in large skillet over medium heat. As soon as butter is melted, add spice mixture; cook, stirring, until fragrant, about 30 seconds. Add turkey meat, and toss to mix with spices.
Add lemon juice to turkey mixture, and toss to combine.
Toss onions, tomatoes, cucumbers, carrots, radishes and vinegar in large bowl. Add herbs, season with salt, and gently toss again.
Heat skillet on medium heat. Warm Arabic bread or tortillas, spread with Sumac and Garlic Mayo, and fill with turkey and vegetable mixture. Make a wrap. Add remaining butter to skillet and sear wrap flat to get a beautiful golden-brown color on one side; repeat on other side.
Cut on bias, and serve.
To order, contact your Smithfield Culinary sales representative, call 888-326-7526 or contact us for more information.
Email Recipe