Argentinian Yerba Mate Soup with Pulled Pork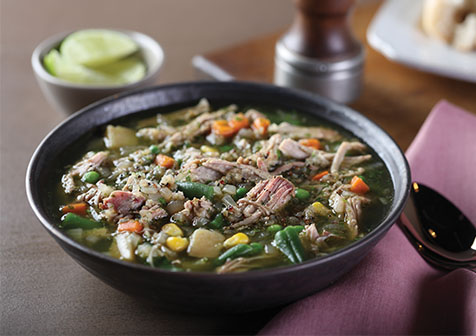 Ingredients
4 cups boiling water
3 Tbsp loose-leaf yerba mate tea
2 Tbsp unrefined, cold-pressed olive oil or avocado oil
1 onion, small diced
2 carrots, peeled and small diced
4 garlic cloves, finely chopped
4 cups chicken stock
Sea salt, to taste
¼ cup quinoa, rinsed and drained
2 Yukon Gold potatoes, peeled and cut into medium cubes
1 cup chopped cilantro
½ cup water
1 cup Smithfield Pulled Pork
1 cup organic frozen mixed vegetables (cut green beans, whole corn kernels, peas) or any available fresh vegetables
Freshly ground black pepper, to taste
Lime wedges, for serving
Details
Product:
Pulled Pork, Smoke'NFast Pulled Pork
Meal Course:
Dinner, Lunch
Dish Type:
Soup/Salad
Preparation
Measure boiling water in large glass measuring cup or large mug. Place yerba mate tea leaves in tea ball or tea bag, and place in boiling water; allow to steep for 5 minutes, remove tea ball, and set brewed tea aside.
In large stockpot, warm oil. Sauté onions and carrots until tender and translucent. Add garlic and sauté until fragrant, about 1 minute.
Add brewed yerba mate, chicken stock, salt, quinoa and potatoes, and bring to boil. Lower heat to simmer, and cook, covered, until potatoes and quinoa are tender, about 15 minutes.
Meanwhile, process cilantro and ½ cup water in blender. Stir into soup mixture along with pulled pork and frozen vegetables, and cook until heated through, about 5-7 minutes.
Taste for salt and pepperand serve with wedges of lime.
To order, contact your Smithfield Culinary sales representative, call 888-326-7526 or contact us for more information.
Email Recipe