Charred Cabbage with Pulled Pork and Herb Ranch Dressing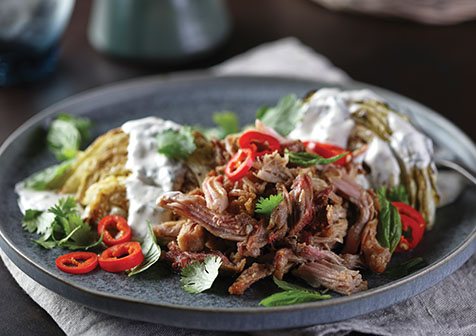 Ingredients
8 cabbage wedges, cut with core intact
Canola oil, as needed
Salt and pepper, to taste
½ cup Sherry-Honey Vinaigrette, divided (recipe follows)
1 lb Smithfield Pulled Pork
½ cup Herb Ranch Dressing (recipe follows)
½ cup Pickled Chiles (recipe follows)
¼ cup cilantro leaves
¼ cup basil leaves
¼ cup crispy onions
Sherry-Honey Vinaigrette
½ cup sherry vinegar
2 Tbsp fish sauce
¼ cup honey
1 Tbsp soy sauce
2 Tbsp Dijon mustard
¾ cup olive oil
Salt and pepper, to taste
Herb Ranch Dressing
1 cup mayonnaise
1 cup sour cream
1 cup buttermilk
1 tsp garlic powder
1 tsp onion powder
4 Tbsp chopped chives
4 Tbsp chopped dill
Salt and pepper, to taste
Pickled Chiles
2 cups white vinegar
½ cup water
8 Tbsp sugar
1 Tbsp salt
1 cup sliced-in-rounds Fresno chiles
2 cups sliced-in-rounds sweet chiles
Details
Product:
Smoke'NFast Pulled Pork
Meal Course:
Dinner, Lunch
Dish Type:
Soup/Salad
Preparation
Season cabbage wedges with canola oil, salt and pepper.
Char cabbage on grill or under oven broiler until tender, charred and black.
Remove cabbage, and dress lightly with Sherry-Honey Vinaigrette, and let rest.
Warm pulled pork in sauté pan with small amount of vinaigrette.
On each plate, place 2 cabbage wedges and an even amount of pulled pork on top of cabbage.
Drizzle Herb Ranch Dressing around top and sides of cabbage. Place pickled chiles around dish, along with cilantro, basil and crispy onions.
Sherry-Honey Vinaigrette:
In bowl, combine sherry vinegar, fish sauce, honey, soy sauce and mustard.
Whisk in olive oil until combined.
Season with salt and pepper.
Herb Ranch Dressing:
Combine all ingredients in bowl, and whisk to combine.
Pickled Chiles:
Boil vinegar, water, salt and sugar for 1 minute.
Pour over chiles, and let cool.
Let sit for 1 day before using.
To order, contact your Smithfield Culinary sales representative, call 888-326-7526 or contact us for more information.
Email Recipe