Bacon & Mushroom Boat Noodles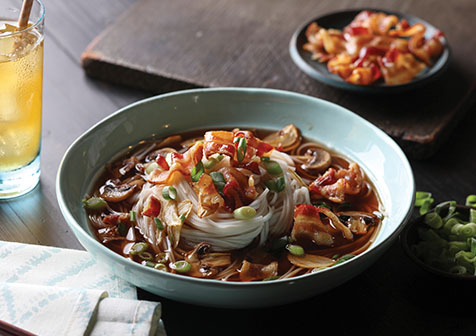 Ingredients
6 oz fresh boat (rice) noodles
6 slices Smithfield Bacon, cooked and cut into 2-inch pieces
1 cup Bacon-Fat Mushrooms (recipe follows)
6 cups Boat Noodle Broth (recipe follows)
¼ cup sliced green onion
1 Tbsp crispy fried garlic
1 tsp chili oil
Boat Noodle Broth
½ cup canola oil
6 slices Smithfield Bacon, cut into strips
½ cup thinly sliced onion
1 Tbsp julienned ginger
½ Tbsp sliced garlic
¼ cup sugar
2 allspices
2 cloves
1 black cardamom
1 tsp black pepper
2 Thai chiles, sliced
1 stick cinnamon
¼ cup unseasoned rice wine vinegar
1 cup red wine
6 cups rich beef stock
2 Tbsp fish sauce
Salt, to taste
Bacon-Fat Mushrooms
2 Tbsp bacon fat
2 cups mushrooms
1 tsp minced garlic
½ teaspoon kosher salt
1 pinch ground black pepper
Details
Product:
Bacon
Meal Course:
Dinner, Lunch
Dish Type:
Soup/Salad
Preparation
Bring pot of lightly salted water to boil for rice noodles.
Use pasta basket or strainer to dip rice noodles in hot water to cook them. (Work in individual orders, as they are hard to separate once cooked.)
Place 1 ounce cooked noodles, 1 slice bacon and 1/6 cup Bacon-Fat Mushrooms in each bowl.
Fill each bowl with 6-7 ounces of hot broth.
Top with sliced shallots, crispy fried garlic and chili oil divided evenly.
Boat Noodle Broth:
In nonreactive pot, heat canola oil over medium-high heat; add bacon, onions, ginger, garlic and sugar, and cook until dark in color and well caramelized.
While aromatics and bacon are caramelizing, toast and grind together all spices except cinnamon.
Add ground spices to pot, along with Thai chile and cinnamon stick, and cook for 1 minute.
Add vinegar and red wine, and bring to simmer.
Add beef stock and fish sauce, bring to simmer, then cut heat, and let steep for 2O minutes.
Season with salt.
Bacon-Fat Mushrooms:
In nonreactive pot over medium-high heat, sauté mushrooms and garlic in bacon fat until tender.
Season with salt and pepper.
To order, contact your Smithfield Culinary sales representative, call 888-326-7526 or contact us for more information.
Email Recipe