Chicken-Fried Bacon Biscuit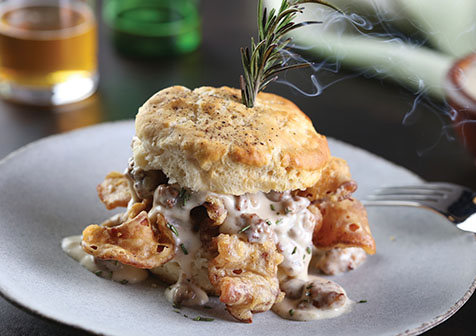 Ingredients
Chicken-Fried Bacon
12 slices Smithfield Bacon, cooked crispy
1 cup all-purpose flour for dusting
IPA Batter (recipe follows)
IPA Batter
1 cup California IPA beer
¼ cup all-purpose flour
⅛ cup cornstarch
1 tsp baking powder
1 tsp salt
1 tsp black pepper
Extra flour for dusting cooked Smithfield Bacon
Peppered Biscuits
4 frozen biscuits
1 Tbsp cream
1 Tbsp black pepper, salt to taste
Rosemary-Sausage Gravy
1 Tbsp canola oil
1 cup Smithfield Breakfast Sausage, crumbled
2 Tbsp finely diced white onion
4 Tbsp all-purpose flour
1 cup heavy cream
1 cup milk
1 tsp chopped fresh rosemary
Details
Product:
Bacon, Breakfast Sausage
Meal Course:
Breakfast
Dish Type:
Sandwich
Preparation
Chicken-Fried Bacon
Dust cooked bacon with flour, immerse completely in IPA Batter, and place in 350°F fryer, or shallow fry in sauté pan, for approximately 4-5 minutes, until golden brown and crispy.
Remove, drain, and hold hot.
IPA Batter
In bowl, mix all ingredients, and reserve cold.
Peppered Biscuit
Place biscuits on sheet pan, brush with cream, and top with salt and black pepper. Bake until golden brown, and reserve.
Rosemary-Sausage Gravy
Cook crumbled sausage in pan with canola oil, adding onions once sausage is browned.
In same pan, add flour and cook until it forms a roux with fat rendered from sausage.
Slowly whisk in cream, milk and chopped rosemary, and let simmer, stirring frequently about 15-20 minutes until it has thickened. Reserve hot.
Plating
Split cooked Peppered Biscuit, place 3 pieces Chicken-Fried Bacon inside, and top with 1 ounce Rosemary-Sausage Gravy.
Place top on biscuit, and top with 2 more ounces gravy. Light 6-inch sprig rosemary on fire, and stab into biscuit to secure sandwich. Blow out fire and serve immediately.
To order, contact your Smithfield Culinary sales representative, call 888-326-7526 or contact us for more information.
Email Recipe