Sausage, Egg and Cheese Bao Bun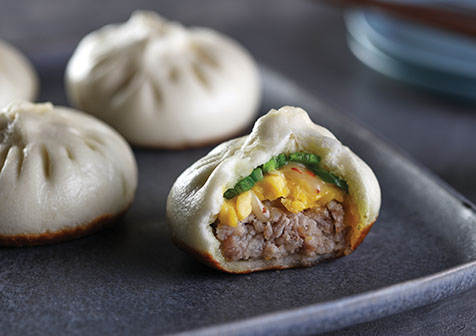 Ingredients
12 oz Bao Dough (recipe follows)
9 oz Smithfield Breakfast Sausage Roll
6 oz Cheesy Omelet (recipe follows)
12 slices jalapeño
½ cup canola oil
Bao Dough
1 cup warm milk
½ tsp active dry yeast
¼ cup sugar
2¼ cups all-purpose flour
¾ cup cornstarch
2 tsp baking powder
5 oz shortening
1 pinch salt
Cheesy Omelet
3 eggs
1 Tbsp cream
1 pinch salt
1 Tbsp butter
2 oz shredded pepper Jack cheese
Details
Product:
Breakfast Sausage
Meal Course:
Breakfast
Preparation
Preheat steamer for cooking bao bun.
Separate dough balls into 1.5-ounce portions.
Roll each ball into thin disk.
In center of each disk, place 1.5-ounce portion of sausage roll.
Top sausage with piece of Cheesy Omelet and 2 slices jalapeño.
Twist sides of dough up around filling and twist it into a point on top to seal it.
Place sealed bun dough into cook for 15 minutes.
In nonstick pan, preheat canola oil over medium heat.
Fry bottoms of steamed bao buns in canola oil until golden brown. Serve hot and crispy.
Bao Dough:
Warm together milk, yeast and sugar, but keep below 90•F.
Once yeast begins to show signs of activity, fold in remaining ingredients, and mix until dough forms.
Cover and let set in warm place until it has doubled in size.
Cheesy Omelet:
Whisk together eggs, cream, and salt.
Warm butter in skillet over medium heat.
Add eggs, and gently cook until barely set; then top with cheese, and reserve warm.
To order, contact your Smithfield Culinary sales representative, call 888-326-7526 or contact us for more information.
Email Recipe