Breakfast Sausage Burrito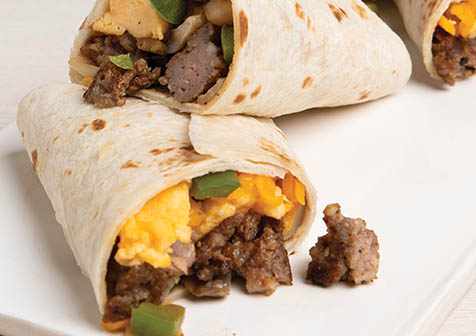 Ingredients
8 links breakfast sausage
1 Tbsp canola oil
6 eggs
3 Tbsp milk
1 ½ teaspoons Kosher salt
2 Tbsp butter
1 avocado, quartered and cut into slices
4 large flour tortillas
Pico de Gallo
4 plum tomatoes, seeded and medium diced
¼ red onion, small diced
1 jalapeño, small diced
2 Tbsp finely chopped cilantro
2 Tbsp freshly squeezed lime juice
1 tsp salt
Salsa Verde
8 tomatillos, peeled
½ white onion, peeled and cut into large chunks
1 jalapeño, quartered and seeded
¼ cup freshly squeezed lime juice
¼ cup chopped cilantro
½ avocado, sliced
1 ½ tsp Kosher salt
Details
Product:
Breakfast Sausage
Meal Course:
Breakfast, Dinner, Lunch
Preparation
1. Slice Smithfield Breakfast Sausage Links into rounds, approximately 1/8" wide.
2. Heat canola oil in a nonstick skillet and place breakfast sausage in skillet. Cook pieces on both sides till lightly browned and set aside.
3. Whisk together eggs, milk and salt in a bowl. Melt butter over low heat in a large nonstick skillet. Pour eggs into skillet and cook, stirring constantly, until just set. Hold in a warm spot till ready to assemble burritos
4. Warm tortillas by placing directly over the burner of range/stove for 3-5 seconds per side.
5. Divide sausage, eggs and avocado between the four tortillas. Place ¼ cup of Pico de Gallo and 2 tablespoons salsa verde in each burrito.
6. Tuck left and right side of tortilla towards the center. Starting with the end closest to yourself, roll upwards, keeping sides tucked in to secure the fillings. If helpful, wrap bottom half in foil sheet to keep burrito more secure.
Pico de Gallo
Toss all ingredients together in a mixing bowl
Salsa Verde
Preheat broiler to highest setting. Place tomatillos, onion and jalapeño on a baking sheet and place under broiler until all ingredients have begun to blacken and soften.
Place cooked tomatillos, jalapeño and onions into a blender along with remaining ingredients. Blend until smooth and refrigerate before use.
To order, contact your Smithfield Culinary sales representative, call 888-326-7526 or contact us for more information.
Email Recipe