Baked Potato Soup with Ham and Horseradish Sauce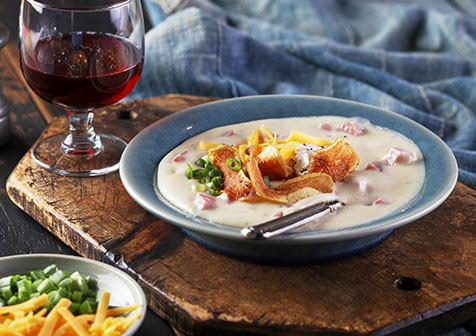 Ingredients
6 cups Potato Soup (recipe follows)
4 oz Smithfield Diced Ham
2 cups Crispy Potatoes (recipe follows)
½ cup Horseradish Sour Cream (recipe follows)
Pinch of shredded cheddar cheese
1 Tbsp cracked black pepper
1 bunch scallions, sliced
Potato Soup
1 stick butter
1 cup chopped onion
1 cup chopped celery
3 Idaho potatoes, peeled and chopped
2 cups chicken stock
Salt and pepper, to taste
1 cup heavy cream
Crispy Potatoes
10 fingerling potatoes
2 cups white vinegar
Frying oil
Malt vinegar powder
Salt
Horseradish Sour Cream
1 cup sour cream
¼ cup prepared horseradish, liquid drained
Juice of 1 lemon
Salt and pepper, to taste
Details
Product:
Diced Ham
Meal Course:
Dinner, Lunch
Dish Type:
Soup/Salad
Preparation
Put diced ham in Potato Soup and heat.
Pour into bowls, and top each with Crispy Potatoes, Horseradish Sour Cream, Cheddar, cracked black pepper and scallions divided evenly.
Potato Soup
In large pot, melt butter, and sweat onions and celery until colorless and soft.
Add potatoes and chicken stock, and bring to simmer.
Season with salt and pepper, and cook until potatoes are fully tender.
Add heavy cream, and bring back to simmer.
Puree soup in blender until fully smooth.
Transfer to new pot, and reserve.
Crispy Potatoes
Slice fingerling potatoes lengthwise very thin on a mandoline, and soak in vinegar for 2 to 4 hours.
Remove from vinegar. Fry in 350°F oil until golden brown, and remove.
Season with malt vinegar powder and salt.
Horseradish Sour Cream
Combine all ingredients in bowl.
To order, contact your Smithfield Culinary sales representative, call 888-326-7526 or contact us for more information.
Email Recipe