Oven-Roasted Whole Baby Carrots with Crispy Ham-Anchovy Vinaigrette
Ingredients
12 organic baby carrots, scrubbed well, tops trimmed but not removed
Salt, as needed
Cracked black pepper, as needed
1 Tbsp rendered Smithfield Bacon fat
Ham-nchovy Vinaigrette (recipe follows)
Dill, chopped, for garnish
Tarragon, chopped, for garnish
8 anchovy fillets
Ham-Anchovy Vinaigrette
½ cup champagne vinegar
1 Tbsp finely diced shallots
2 marinated white anchovies
2 Tbsp chopped fresh dill
1 Tbsp chopped tarragon
1 tsp Dijon mustard
¾ cup extra virgin olive oil
4 oz Smithfield Diced Ham
Details
Product:
Diced Ham
Meal Course:
Dinner, Lunch
Dish Type:
Soup/Salad
Preparation
Preheat oven to 450°F. Heat fajita-style skillet in oven until very hot.
Toss carrots and ham in salt, pepper, and bacon fat. Place on hot skillet, and cook until carrots are charred, and ham is crispy, approximately 15-20 minutes at 450°F.
Remove from oven, and finish carrots with 1 ounce dressing on top, with fresh chopped dill and tarragon and 2 anchovy fillets for each serving.
Ham-Anchovy Vinaigrette:
Place all ingredients except ham and oil in blender, and puree until smooth, and then emulsify oil into mixture. Add ham. Reserve chilled.
To order, contact your Smithfield Culinary sales representative, call 888-326-7526 or contact us for more information.
Featured
recipes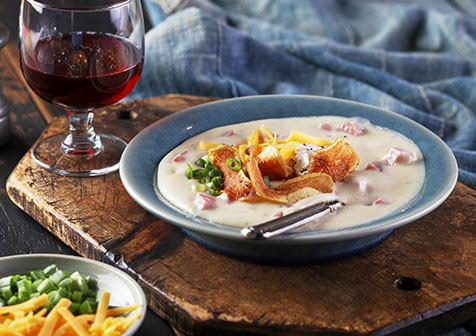 Baked Potato Soup with Ham and Horseradish Sauce
Email Recipe