BBBT (Bacon, Brie, Butter Lettuce and Tomato Jam on a Baguette)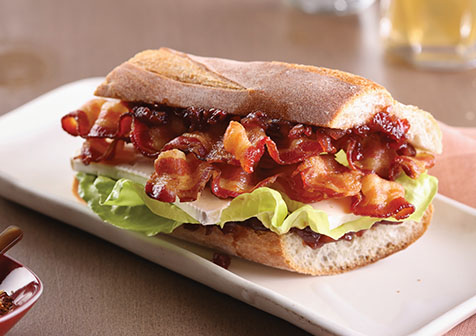 Ingredients
1 6-inch piece of French baguette, split
2 oz Tomato Jam (recipe follows)
3 leaves butter lettuce, washed
2 slices Brie cheese, about 4 inches long and ½-inch thick
5 slices Smithfield Bacon, cooked crisp (reserve fat for jam)
Tomato Jam (yields 10 2-oz servings)
10 Roma tomatoes
1 Tbsp fat rendered from Smithfield Bacon (See above)
1 shallot, julienned
2 cloves garlic
½ cup light brown sugar
1 cup port wine
Salt and black pepper, to taste
Details
Product:
Bacon
Meal Course:
Dinner, Lunch
Dish Type:
Sandwich
Preparation
Cover each inside of baguette with 1 oz Tomato Jam; then on bottom side, place 3 butter lettuce leaves, 2 slices Brie cheese and 5 slices crispy bacon.
Top sandwich, wrap in butcher paper, tie with twine, and cut in half.
Serve immediately.
Tomato Jam:
Blanch tomatoes, peel skin, seed, and small-dice.
In pan, add rendered bacon fat, shallots and garlic; cook until soft and fragrant.
Add brown sugar and wine, and let simmer until wine has reduced by half .
Add tomatoes, and let cook down to jam consistency, about 10-15 minutes on low heat. Cool. (It will thicken as it cools.)
To order, contact your Smithfield Culinary sales representative, call 888-326-7526 or contact us for more information.
Email Recipe