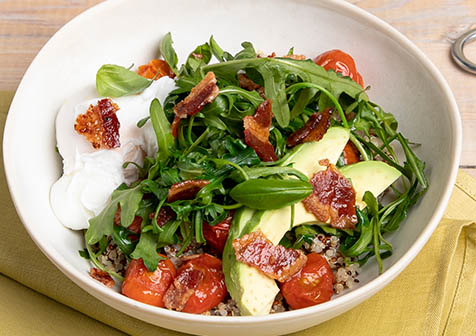 Ingredients
1 cup quinoa
2 cups water
1 tsp kosher salt
3 cup bacon (cooked and crumbled)
2 whole avocados
1 head little gem lettuce
15 cherry tomatoes
Dressing
Half cup vegetable oil
¼ cup whole grain mustard
3 TBL honey
3 TBL lemon juice
Salt and pepper to taste
Details
Product:
Bacon
Meal Course:
Lunch
Preparation
Boil water and add in 1 cup dried quinoa. Cook for 15 minutes or until quinoa plumps. Reserve and let cool.
Take bacon slices and cook in 350 degree oven for 16 minutes. Let cool on paper towels and then crumble by hand and reserve in a bowl.
Peel and cut avocados in half and cut into 6 chunks.
Clean and peel lettuce leaves apart and place into 2 bowls. Arrange into a cupped landing space for the quinoa.
Slice cherry tomatoes in half and season with a little bit of salt. Allow some of the moisture to release from the tomatoes.
Dressing
Combine all ingredients except for the oil into a mixing bowl, whisk into ribbons and slowly add in the oil in a drizzled stream. Season to your taste with kosher salt and black pepper. Dress your greens and reserve some to drizzle over top of your finished dish for an extra layer of flavor.
To order, contact your Smithfield Culinary sales representative, call 888-326-7526 or contact us for more information.
Email Recipe