Butternut Squash, Ham and Arugula Salad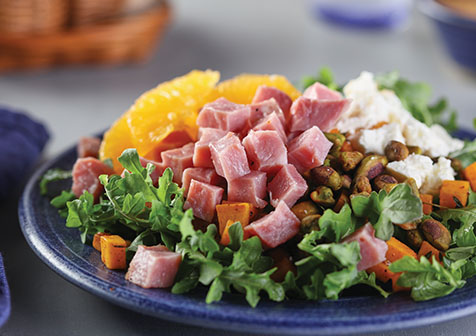 Ingredients
1 small butternut squash
1 sprig fresh thyme
4 Tbsp honey
4 Tbsp extra virgin olive oil
½ tsp chili powder
Salt and pepper, to taste
¼ cup shelled pistachios
Orange-Honey Vinaigrette (recipe follows)
1 fresh orange
8 oz baby arugula
½ cup crumbled feta cheese
8 oz Smithfield Cubed Ham
Orange-Honey Vinaigrette (yields 1 cup)
1 small shallot, peeled
2 garlic cloves, peeled
6 Tbsp canola oil
½ tsp Dijon mustard
1 dash cayenne
3 Tbsp cider vinegar
4 Tbsp orange juice, fresh squeezed
2 Tbsp honey (if you like it sweeter, add an extra teaspoon)
Salt and pepper, to taste
Details
Product:
Ham
Meal Course:
Dinner, Lunch
Dish Type:
Soup/Salad
Preparation
Preheat oven to 350°F.
Peel and cut butternut squash in half. Remove seeds. Cut into -inch cubes.
Chop thyme, and add to butternut squash in small mixing bowl. Add honey, extra virgin olive oil, chili powder, salt and pepper. Mix thoroughly, and lay on roasting tray.
Add salt and pepper to pistachios, and spread them on separate roasting tray.
Place butternut squash and pistachios in preheated oven.
Remove pistachios after 5 minutes, and continue roasting butternut squash for 6-8 minutes longer.
While butternut squash is getting roasted, prepare Orange-Honey Vinaigrette.
Once butternut squash is cooked, remove from oven, and let it rest and cool.
Peel orange, and supreme it into segments. Reserve any juice for dressing.
In mixing bowl, add baby arugula, salt, pepper and Orange-Honey Vinaigrette, and toss to mix properly. Place in serving salad bowl; add roasted butternut squash, crumbled feta cheese, diced ham, toasted pistachios and orange segments.
Orange-Honey Vinaigrette
In preheated 350°F, roast shallots and garlic with 1 tablespoon oil for 12 minutes.
In blender, add roasted shallots, roasted garlic, Dijon, cayenne, cider vinegar and orange juice.
Use blender to form a uniform puree; then slowly add remaining canola oil, keeping blender running on low setting.
Add seasoning and honey to your liking.
To order, contact your Smithfield Culinary sales representative, call 888-326-7526 or contact us for more information.
Email Recipe