Crispy Fried Ham Mac & Cheese Bites with Jezebel Sauce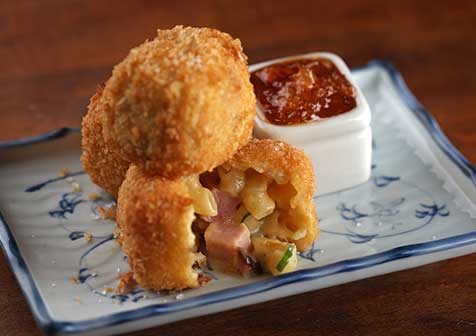 Ingredients
1 pt. béchamel
4 oz. cheddar cheese
1 oz. Parmesan cheese
2 oz. Brie cheese
½ lb. macaroni noodles, cooked
¼ lb. Smithfield Diced Ham
3 egg yolks
½ cup milk
3 eggs
1 ½ cups flour
1 qt. panko, lightly ground
3 cups vegetable oil
Salt, to taste
1 cup Jezebel Sauce (recipe below)
Jezebel Sauce
¼ cup vegetable oil
½ medium yellow onion, small diced
2 cloves garlic, sliced
½ cup pineapple preserves
½ cup apple jelly
1 Tbsp. sambal chili paste
2 Tbsp. prepared horseradish
Details
Product:
Ham, Smithfield Diced Ham
Meal Course:
Dinner, Lunch
Dish Type:
Appetizer
Preparation
Warm béchamel until it begins to simmer. Once hot, remove from heat and whip in 3 cheeses until smooth, followed by macaroni, diced ham and egg yolks.
Lay mixture in deep pan to thickness of 1-inch, and let cool in fridge until firm and set. While macaroni is setting, make egg wash by whisking together milk and eggs.
Set up standard breading station: flour, egg wash, ground panko.
Cut 1-inch. cubes from sheet of macaroni and place in freezer for 10 minutes to firm up.Bread macaroni by first coating evenly with flour, dip in egg wash, press into ground panko. Go back into egg wash and one more time into panko, pressing it onto cube in an even layer.
Refrigerate breaded cubes until ready to fry.
In a wide pot or fryer, heat oil to 360°F.
Carefully, in batches, fry bites in oil until golden brown and hot in center. Drain cubes on paper towel–lined tray, and sprinkle with salt.Serve hot with Jezebel Sauce on the side for dipping or spreading.
For Jezebel Sauce, in small pot, sweat onions and garlic in vegetable oil over medium heat until translucent.
Add pineapple preserves, apple jelly, chili paste and prepared horseradish.
Bring pot to simmer, and let cool.
To order, contact your Smithfield Culinary sales representative, call 888-326-7526 or contact us for more information.
Email Recipe