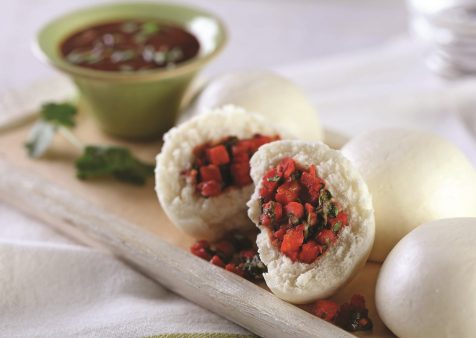 Ingredients
½ cup warm water (105-115°F), divided
2 tsp. active dry yeast
2 Tbsp. sugar plus a pinch
1½ cups cake flour, plus more if needed
1 tsp kosher salt
¼ tsp baking soda
1 Tbsp. canola oil
Char Siu Marinade (recipe follows)
12 oz. Smithfield Diced Ham
3 Tbsp. cilantro, chopped
¼ cup green onion, thinly sliced
Canola oil, for greasing and brushing
Char Siu Marinade
3 curds +1 Tbsp. fermented bean curd sauce
2 Tbsp. hoisin sauce
2 Tbsp. soy sauce
2 Tbsp. Chinese cooking wine
1 tsp. sesame oil
2 Tbsp. honey
1 Tbsp. Chinese five spice
½ tsp. white pepper
3 cloves garlic, minced
Details
Product:
Smithfield Diced Ham
Preparation
Stir together ¼ cup warm water with yeast and sugar. Let stand until foamy, 5 to 10 minutes. Whisk in remaining warm water.
Stir together flour, salt, baking soda in food processor bowl, then add in liquid with yeast and sugar and blend until dough ball is formed. Adjust consistency of dough with more flour or water as needed until dough ball is formed.
Put dough in lightly oiled large bowl, and turn to coat. Cover with plastic wrap, and let dough rise in draft-free place at warm room temperature until doubled, about 2 hours.
Add ham, cilantro and green onions to Char Siu Marinade. Let set for 2 hours.
After dough has risen, portion into 10-12 smaller dough balls and keep covered up. Working with one dough ball at a time, roll out with your hands to a thin 3-inch circle, and place heaping tablespoon of marinated ham into center.
Wrap dough around the ham–char siu filling, and pinch together, closing it around itself and making bao.
Lightly brush with canola oil, and steam bao for 10 minutes.
Remove from steam, and serve with Char Siu Marindade for dipping.
Char Siu Marinade:
Mix all ingredients; reserve ½ of this marinade for service.
To order, contact your Smithfield Culinary sales representative, call 888-326-7526 or contact us for more information.
Email Recipe