Wok Stir-Fry with Ham and Spicy Black Bean Glaze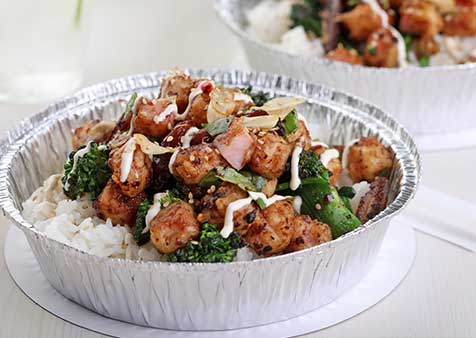 Ingredients
2 Tbsp vegetable oil
4 oz broccolini, cut into 3-inch pieces
4 dates, pitted and quartered
2 dried Thai chiles, cut in half
1 garlic clove, sliced
8 oz Smoked Diced Ham Cubes
1 cup Tempura Batter (recipe follows)
4 oz Spicy Black Bean Glaze (recipe follows)
6 Thai basil leaves, torn
10 oz sticky rice
2 oz mayonnaise
½ Tbsp sesame seeds
½ Tbsp crispy fried garlic
Tempura Batter:
1 large egg
½ cup cornstarch
1 cup all-purpose flour
1 cup beer
Spicy Black Bean Glaze:
1 Tbsp fermented black bean paste
½ Tbsp fermented red pepper paste
4 oz honey
1 tsp dried fermented black beans, rinsed & soaked in water
2 oz rice wine vinegar
Details
Product:
Boneless Ham, Smithfield Diced Ham
Meal Course:
Dinner, Lunch
Dish Type:
Entrée
Preparation
Preheat fryer to 360°F. Heat separate wok over medium-high heat.
Swirl oil into wok. Then add broccolini, dates and Thai chiles to wok, and wok-fry for 2 minutes.
Finish with garlic, and sauté for additional minute.
Toss diced deli ham cubes with Tempura Batter, and drop directly into fryer. Fry for 1 minute until crispy.
Add crispy diced ham, Spicy Black Bean Glaze and torn basil to wok, and toss until well glazed.
Place 5 ounces sticky rice into 2 bowls. Divide wok-fried vegetables between bowls. Then top with healthy drizzle of mayo, sprinkle of sesame seeds and sprinkle of crispy fried garlic.
Tempura Batter:
Whisk all ingredients together until well incorporated.
Spicy Black Bean Glaze:
Blend all ingredients together, and reserve.
To order, contact your Smithfield Culinary sales representative, call 888-326-7526 or contact us for more information.
Email Recipe