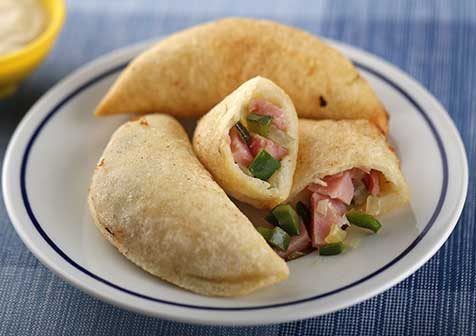 Ingredients
½ cup mozzarella cheese, shredded
1 ½ cups Smithfield Diced Ham
¼ cup diced poblano peppers
¼ cup diced onion
3 cups precooked white cornmeal
3 cups water
Details
Product:
Ham, Smithfield Diced Ham
Meal Course:
Dinner, Lunch
Dish Type:
Entrée, Sandwich
Preparation
To make filling, mix cheese, ham, peppers and onions. Set aside.
In a mixing bowl, add white cornmeal and slowly add water, mixing with your hands to make sure there are no lumps.
Portion dough into roughly 60-gram balls.
Roll out each dough ball until flat, and cut with deli pint container to form a circle.
Put 1 Tbsp. of filling in center of each dough circle.
Fold dough over, and seal it by pressing pint container over the edge.
Fry at 350°F until golden brown.
Remove from fryer, and place on paper towel–lined rack to remove excess oil. Serve hot.
To order, contact your Smithfield Culinary sales representative, call 888-326-7526 or contact us for more information.
Email Recipe