Ricotta-Filled Tortellini with Ham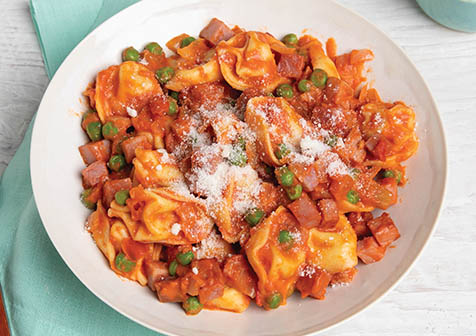 Ingredients
● 2 lbs cheese filled tortellini
● 1 lbs Smithfield Ham
● ½ cup fresh garlic
● 1 cups extra virgin oilve oil
● 2 tbsp minced shallots
● 1 cup fresh peas
● ¼ cup white wine
● 2 cups heavy cream
● ½ cup grated parmesan cheese
● 1 tbsp fresh parsley
● 1 tbsp fresh chives
Details
Product:
Ham
Meal Course:
Dinner, Lunch
Dish Type:
Entrée
Preparation
In a 300' oven combine garlic and olive oil make sure the garlic is submerged in oil bake for 1-2 hours until garlic is golden brown and soft to the touch
Medium dice Ham, then take some of the garlic oil and heat in pan over medium heat. Add the ham and cook until it begins to brown and get crispy stirring frequently. Once crispy remove from the pan and set aside. Reserve the pan and pour half the oil out that is remaining.
In a medium sized pot fill 2/3s of the way while heavily salting the water and bring to a low boil. Add tortellini and let cook 3-5 minutes until tender
In the same pan you crisped the pan in with reserved oil bring back to medium heat and sauté the shallots for 2-3 minutes until fragrant.
Add white wine and let reduce by half, once reduced add your roasted garlic and heavy cream. Let this reduce again until cream begins to thicken (if the sauce is too thick for your liking adjust with pasta water), once thickened 5-10 minutes add cheese, peas and tortellini.
Add fresh parsley and chives and toss pasta with sauce until everything is well combined and adjust seasoning as needed. Top with ham and enjoy!
To order, contact your Smithfield Culinary sales representative, call 888-326-7526 or contact us for more information.
Email Recipe