Shaved Brussels Sprout Salad with Bacon and Miso Dressing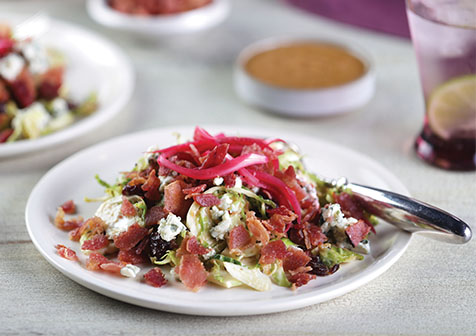 Ingredients
6 cups thinly shaved Brussels sprouts
½ cup dried cherries
½ cup pumpkin seeds, toasted
Salt and pepper, to taste
1 cup Miso Dressing, divided (recipe follows)
1 cup blue cheese crumbles
1 cup Smithfield Bacon Bits, warmed
1 cup Pickled Red Onions (recipe follows)
Miso Dressing
1 cup white miso
8 Tbsp rice wine vinegar
8 Tbsp soy sauce
8 Tbsp sesame oil
¼ cup minced ginger
¼ cup water
Pickled Red Onions
4 cups sliced red onions
2 Tbsp salt
¼ cup sugar
2 cups red wine vinegar
¼ cup red beet juice
Details
Product:
Bacon Bits
Meal Course:
Dinner, Lunch
Dish Type:
Soup/Salad
Preparation
In large bowl, combine Brussels sprouts, dried cherries, and toasted pumpkin seeds.
Season with salt and pepper, and toss with ¾ cup Miso Dressing.
Mix salad, and add more dressing if needed.
Portion salad into 4 wide bowls.
On top of each salad, sprinkle blue cheese crumbles, bacon bits and Pickled Red Onions.
Miso Dressing:
Combine all ingredients in bowl and whisk to combine.
Pickled Red Onions:
Season red onions with salt and sugar, and let sit for 20 minutes.
Pour in vinegar and beet juice, and mix.
Let sit for 1 day before using.
To order, contact your Smithfield Culinary sales representative, call 888-326-7526 or contact us for more information.
Email Recipe