Smoked Brisket Sandwich in Vindaloo Curry Sauce with Bacon-Fat Mayo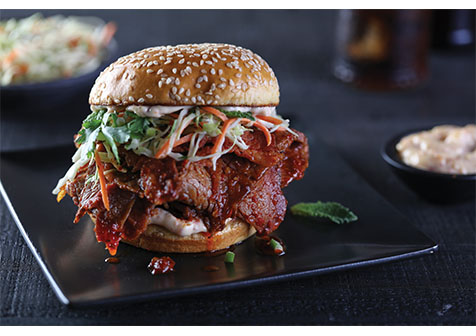 Ingredients
4 oz Smithfield Smoked Brisket, sliced thinly
3 oz Vindaloo Curry BBQ (recipe follows)
1 sesame bun, split
1 Tbsp butter
2 Tbsp Bacon-Fat Mayo (recipe follows)
¼ cup Jalapeño Cabbage Slaw (recipe follows)
6 sprigs cilantro
4 leaves mint
Vindaloo Curry BBQ (yields 4 cups)
8 strips raw Smithfield Bacon, cut into strips
1 onion, minced
1 Tbsp minced garlic
1Tbsp minced ginger
1 Tbsp tomato paste
¼ cup ground dried Thai chiles
½ tsp ground clove
½ tsp ground cinnamon
½ tsp ground mustard
½ cup Korean red pepper flakes
½ cup red wine
1 cup dark brown sugar
¼ cup honey
¼ cup Creole mustard
1 cup cane vinegar
½ cup seasoned rice wine vinegar
½ tsp fish sauce
1 tsp salt
Bacon-Fat Mayo
2 egg yolks
1 tsp sambal chili paste
1 tsp Creole mustard
1 lime, juiced
1 tsp seasoned rice wine vinegar
1 tsp fish sauce
1½ cups vegetable oil
½ cup warm bacon fat
¼ cup cooked bacon bits
Salt, to taste
Jalapeno Cabbage Slaw
1 cup shredded green cabbage
¼ cup shredded carrot
1 jalapeño, seeded and diced
4 sprigs dill, chopped
½ cup mayonnaise
¼ cup seasoned rice wine vinegar
1 teaspoon kosher salt
Details
Product:
Bacon Bits, Smoke'NFast Brisket
Meal Course:
Dinner, Lunch
Dish Type:
Sandwich
Preparation
Warm together smoked brisket and Vindaloo Curry BBQ.
Spread cut sides of bun with butter, and toast on hot griddle or in cast-iron pan.
Slather both toasted pieces of bun with Bacon-Fat Mayo.
Mound Vindaloo BBQ Brisket high on bottom slice of bun, and top with Jalapeño Cabbage Slaw, cilantro sprigs and mint leaves. Replace top of bun.
Serve immediately.
Vindaloo Curry BBQ (yields 4 cups):
In nonreactive pot over medium-high heat, render bacon until golden brown.
To pot, add onions, garlic and ginger, and sweat until translucent.
Add tomato paste, ground Thai chiles, ground cloves, ground cinnamon, ground mustard and Korean red pepper flakes, and simmer for 5 minutes.
Deglaze with red wine, and simmer for an additional 5 minutes.
Add remaining ingredients, bring to simmer, and then reduce gently until nappe.
Bacon-Fat Mayo:
In food processor, blend all ingredients except vegetable oil, bacon fat and bacon bits.
Once mixture is well blended and frothy on top, slowly stream in vegetable oil while mixture is blending.
Once oil is fully emulsified, slowly add warm bacon fat, followed by bacon bits.
Season with salt.
If mayo is a little loose, whisk in a bit more vegetable oil.
Jalapeno Cabbage Slaw:
In medium mixing bowl, mix all ingredients together, and let marinate for at least an hour.
To order, contact your Smithfield Culinary sales representative, call 888-326-7526 or contact us for more information.
Email Recipe