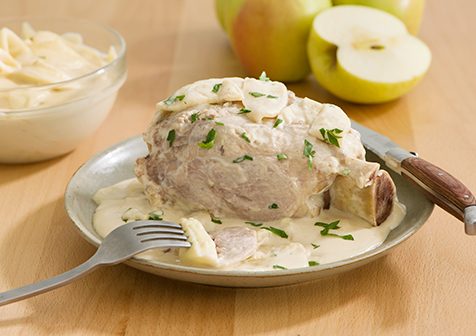 Ingredients
12 golden delicious apples, peeled and thinly sliced (about 14 cups)
1 cup whiskey
1 cup butter
2 teaspoons beef base
2 teaspoons chicken base
3 tablespoons prepared horseradish
1/2 cup flour
2 cups apple cider
1 qt. sour cream
1 cup heavy cream
Salt and ground white pepper to taste
Details
Product:
Osso Buco
Meal Course:
Dinner
Dish Type:
Sauces, Rubs, Marinades
Preparation
Combine apples and whiskey; let stand 15 minutes.
Melt butter with beef and chicken base over medium-high heat. Add apples, whiskey and horseradish; sauté until apples are tender.
Reduce heat to medium. Stir in flour; cook 1 to 2 minutes. Stir in cider and simmer until thickened. Stir in remaining ingredients; heat through.
To serve, ladle 4 ounces sauce on plate. Stand heated Osso Buco in center of sauce and drizzle additional 2 ounces sauce over top.
To order, contact your Smithfield Culinary sales representative, call 888-326-7526 or contact us for more information.
Email Recipe