Korean BBQ Beef Sandwich with Sweet Chili Slaw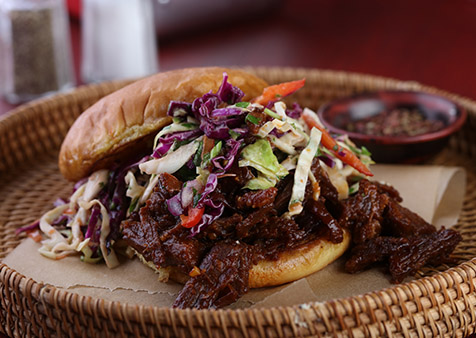 Ingredients
Ingredients:
1½ lb Curly's by Smithfield® Fully Cooked Beef Barbacoa
4 brioche buns
Butter, as needed
Korean BBQ Sauce:
2 Tbsp sesame oil
1 Tbsp chopped ginger
1 Tbsp chopped garlic
½ cup soy sauce
½ cup ketchup
½ cup brown sugar
2 Tbsp rice wine vinegar
2 Tbsp gochujang paste
Sweet Chili Slaw:
4 cups shredded red & green cabbage
1 cup shredded carrots
½ cup sliced green onion
½ cup julienned red bell pepper
2 Tbsp chopped cilantro
3 limes, juiced
2 Tbsp soy sauce
2 Tbsp rice wine vinegar
1 Tbsp minced garlic
½ cup Thai chili sauce
2 Tbsp peanut butter
¼ cup canola oil
2 Tbsp sugar
1 Tbsp red chile paste
Details
Product:
Barbacoa
Meal Course:
Lunch
Dish Type:
Entrée, Sandwich, Sauces, Rubs, Marinades
Preparation
Heat Korean BBQ Sauce in skillet.
Add barbacoa to skillet, and bring to simmer.
Butter and toast brioche buns.
Assemble sandwich by adding barbacoa to bottom half of toasted bun and topping with slaw and top half of bun.
For Korean BBQ Sauce, in small saucepan, heat sesame oil on medium-high heat.
Add chopped ginger and garlic to pan; season with salt and pepper.
Add soy sauce, ketchup and brown sugar, and bring to boil.
Add vinegar and gochujang paste and remove from heat.
For Sweet Chili Slaw, prepare all vegetables for slaw.
Make dressing by adding all remaining ingredients to blender. Blend until fully incorporated.
Place all vegetables in large mixing bowl. Lightly coat with dressing.
To order, contact your Smithfield Culinary sales representative, call 888-326-7526 or contact us for more information.
Email Recipe