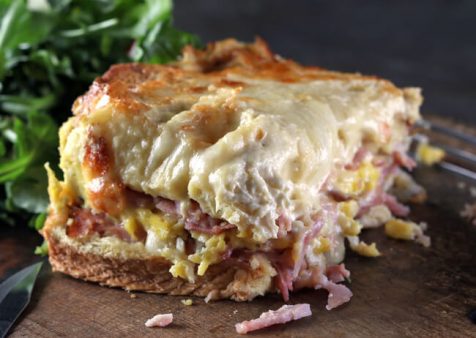 Ingredients
8 slices Texas toast
8 oz. whole milk mozzarella cheese, sliced
1 tsp. dry oregano
6 eggs, soft scrambled
½ cup mayonnaise
½ cup heavy whipping cream
1 egg yolk
1 Tbsp. Dijon mustard
¼ cup whole milk mozzarella, shredded
¼ cup Parmesan, grated
Details
Ham Brands Offered: Armour by Smithfield, Carando, Eckrich, Farmland, John Morrell, Patrick Cudahy, Smithfield Culinary
Product:
Ham
Meal Course:
Breakfast
Dish Type:
Entrée
Preparation
Preheat oven to 400°F.
Prepare 9×9-inch baking dish by greasing with butter or cooking spray.
Lay first layer of bread, cutting some slices in half to fill bottom of dish evenly.
Add layer of ham and top with sliced mozzarella and oregano.
Finish with second layer of ham, scrambled eggs and final layer of bread.
In medium-sized bowl, combine mayonnaise, heavy cream, egg yolk and Dijon mustard. Whisk until smooth.
Carefully pour sauce over sandwiches. Sprinkle shredded mozzarella and Parmesan on top, and bake in hot oven for about 30 minutes or until bubbly and golden brown.
Serve immediately.
To order, contact your Smithfield Culinary sales representative, call 888-326-7526 or contact us for more information.
Email Recipe