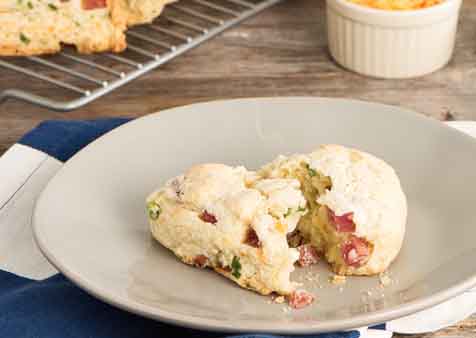 Ingredients
2 cups All purpose flour
1/3 cup Granulated sugar
1 tsp. Baking powder
1/4 tsp. Baking soda
1/2 tsp. Salt
8 Tbsp. Butter, unsalted, chilled, cut into small pieces
3/4 cup 1/2″ Diced Ham
1/4 cup Cheddar cheese, sharp, shredded
2 Tbsp. Green onions, sliced
1/2 cup Milk
1 ea. Egg
Details
Product:
Ham
Meal Course:
Breakfast
Dish Type:
Side Dish
Preparation
Heat oven to 350°F.
Line a baking sheet with parchment paper.
In a large bowl, mix the flour, sugar, baking powder, baking soda, and salt.
Cut in butter with a pastry blender or two forks until butter is the size of small peas.
Stir in the ham, cheese, and green onion.
In another small bowl, whisk milk, and egg.
Add the wet ingredients to the dry; stir until mixture holds together.
Place the dough on a floured surface; form dough into an 8-inch round about 1-inch thick.
With a knife, cut dough into 8 wedges.
Place on a baking sheet lined with parchment paper or an ungreased baking sheet.
Bake for 8-10 minutes or until golden brown.
Prep Time: 10 min.
Cook Time: 10 min.
To order, contact your Smithfield Culinary sales representative, call 888-326-7526 or contact us for more information.
Email Recipe