Cardboard? Plastic? Styrofoam? Paper? The right packaging can make meals more enjoyable…or a carryout disaster.
Carryout meals can be a fun and satisfying way to enjoy an unlimited number of delicious meals. And taste, of course, is of utmost importance to food lovers. But packaging may be a close second. Because the last thing customers want to have happen is that their food has spilled all over their cars or their clothes. Or that their food just didn't arrive as expected due to inferior packaging. The last thing an operator wants is a customer to have that kind of bad takeout experience.
To better understand what types of packaging are effective, it's helpful to know where carryout users enjoy their meals.1
73%
Eat them at home
44%
Eat them on transit
31%
Eat them at a public place
30%
Eat them it at work
---
What do carryout lovers look
for in their packaging?2
Because the complete carryout experience relies on solid, spill-free and dependable packaging, up to 37% of consumers say they will pay a higher cost for premium packaging. Currently, only 45% of customers view the packaging offered by their favorite carryout locations as very good or excellent. Consumers, and operators, look for packaging that:3
Maintains Quality - Helps keep the food hot/cold, seals in the freshness of the food, has an easy-to-open container, is compatible with the product life cycle and ingredients
Right Economics - Doesn't substantially raise the price of the food
Plates Well - Supports the aesthetics of the operator brand
Safe - May exhibit if there is tamper evidence, is leak-resistant, travels well
Effective Operationally - Versatile, container can offer multiple functions
Sustainability Implications - Container is eco-friendly better for the environment
Manufacture Fit - Quality and price of the container
---
Sample Packaging and Usage: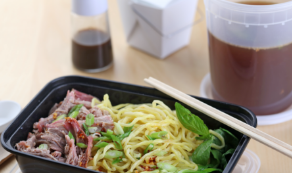 Deli Containers:
Perfect for separating the different ingredients of items, such as soup, so consumers can combine to their liking.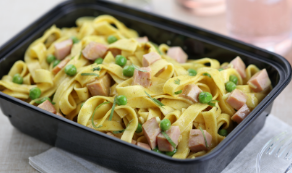 Microwavable Plastic Food Containers:
A reheatable container that can fit anything, from mac and cheese, to stir-fry, to pasta dishes and so much more!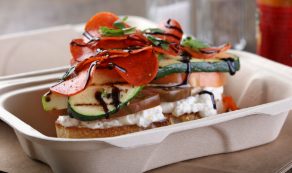 Compostable Food Containers:
This eco-friendly container complements healthy choices, from salads, to fruits, to vegetables, and keeps them safe and fresh.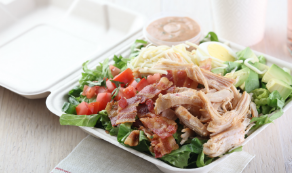 Square Styrofoam:
These containers pack a lot of food, from rice, to salad, to on-trend bowls, and can be eaten out of directly.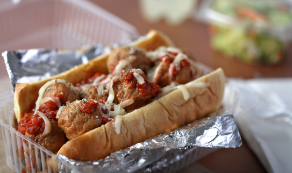 Clear Plastic Clamshell Containers:
From a wrap, to a quiche, to a sandwich, plastic clamshell containers are a great way to keep handheld items intact.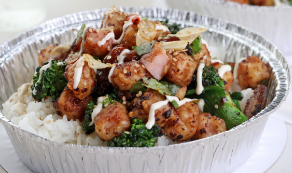 Foil Bowls:
An option that tends to keep foods warmer longer, perfect for pastas, ethnic dishes; available in a variety of useful sizes.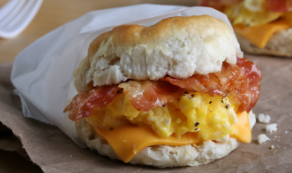 Parchment Paper:
A terrific way to wrap sandwiches and other foods where a grease- and water-resistant paper is desired; can also be reheated vs. waxed paper.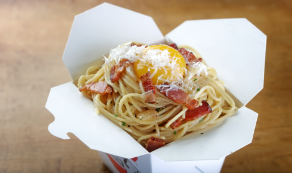 Oyster Pail:
This versatile, fun and classic "Chinese Takeout Box" is inexpensive, durable and fairly leakproof if kept upright. It's also easy to carry with its built-in handle.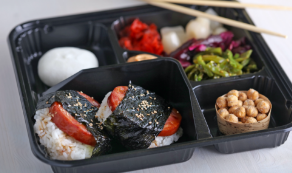 Bento Box:
The compartmentalized bento box allows for a variety of foods in one easy package, so it's perfect for a multicourse meal or a build-it-yourself meal.
Smithfield Culinary has the extensive portfolio of products to create a crowd-pleasing menu of carryout items.
For additional information, contact your Smithfield Culinary sales representative, or call 888-327-6526.
1 Technomic, May 2020 Future of LSR: Fast Food and Fast Casual
2 Technomic, May 2019 Packaging Trends & Outlook
3 Technomic, January 2019 Takeout Packaging & Supplier Workshop Breakout