Braised Breakfast Sausage Stew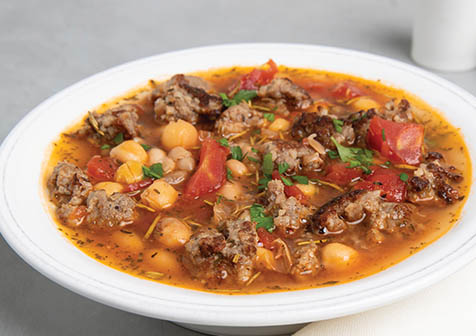 Ingredients
1 cup olive oil
1 lb Breakfast Sausage
1 medium onion, small diced
1 garlic clove, smashed
1 small carrot, small diced
1-2 ribs celery, small diced
1- 28 oz can of San Marzano tomatoes, chopped, sauce reserved
2 cups chicken stock
¼ cup sage chopped fine
1 tbs fresh thyme, chopped fine
1 tbs fresh Chives, chopped fine
4 cups chicken stock
1 clove garlic
1 bay leaf
1 cup or Parmesan cheese
¼ cup mascarpone
¼ cup butter
Salt and pepper to taste
Details
Product:
Breakfast Sausage
Meal Course:
Breakfast, Dinner, Lunch
Preparation
In heavy bottom sauce pot heat oil till hot
Once oil is hot placebreakfast sausage in and brown. Once browned remove sausage and add carrots and onions until browned.
Add celery and sauté lightly about 1 minute.
Add San Marzano tomatoes and incorporate all ingredients well.
Return breakfast sausage and add chicken stock.
Bring to simmer, reduce to low.
Let cook for 45 minutes
With braised sausage about done add all herbs and set 4 cups chicken stock, garlic clove, bay leaf to boil.
Add stone ground grits slowly and reduce to low simmer for 10 minutes stirring with wooden or high temp spatula consistently.
Add parmesan and incorporate till smooth.
Add mascarpone and butter.
Salt and pepper to taste
Set aside
Garnish with parmesan
To order, contact your Smithfield Culinary sales representative, call 888-326-7526 or contact us for more information.
Email Recipe