Caldo de Res Stew with Charred Tortillas and Lime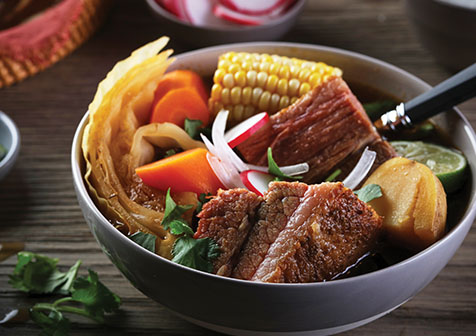 Ingredients
5 cups beef broth
1 Tbsp light chili powder
1 Tbsp Mexican oregano
1 dried guajillo chile
1 Tbsp granulated garlic
1 tsp Maggi Sauce
2 Tbsp Hot Sauce
½ cup diced white onion
1 8-oz can diced tomato in juice
8 2-inch carrot slices
8 2-inch potato slices
4 2-inch fresh corn cobbettes
4 2-inch white cabbage pieces
12 2-inch smoked Smithfield Brisket chunks
8 corn tortillas, charred
4 fresh lime slices
4 cilantro sprigs
4 slices fresh white onion
4 radishes, sliced
Details
Product:
Smoke'NFast Brisket
Meal Course:
Dinner, Lunch
Dish Type:
Soup/Salad
Preparation
Bring broth, spices, chile and garlic to boil, adding onions and other vegetables to just cook through, and adding brisket at the end to just heat through.
Remove dried chile, and then serve in 4 bowls, dividing vegetables to have 2 carrot and 2 potato slices, 1 corn and 1 cabbage piece and 3 chunks smoked brisket per bowl. Top evenly with broth, and garnish on the side with charred tortillas, lime, cilantro, sliced white onions and radishes.
To order, contact your Smithfield Culinary sales representative, call 888-326-7526 or contact us for more information.
Email Recipe