Chicken Fried Ham with Ham Gravy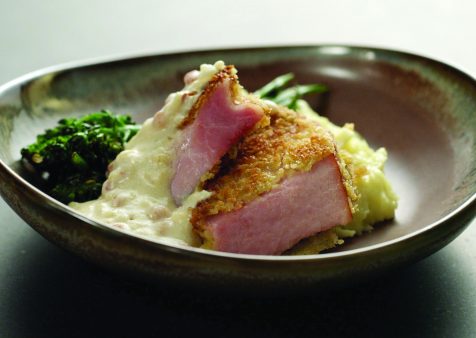 Ingredients
1 cup breadcrumbs
2 Tbsp minced Italian parsley
1 tsp paprika
¼ tsp cayenne
1 tsp kosher salt
½ tsp black pepper
1 cup flour
2 eggs, whisked
¼ cup milk
8 thick slices Smithfield Boneless Ham
Salt and pepper, to taste
½ cup oil, for frying
1 Tbsp butter
Ham Gravy (recipe follows)
Ham Gravy:
1 cup Smithfield Boneless Ham, diced
1 cup diced onions
1 Tbsp minced garlic
3 Tbsp flour
2 ½ cups milk
½ tsp kosher salt
1 tsp lemon juice
¼ tsp cayenne
Details
Product:
Smithfield Boneless Ham
Meal Course:
Dinner
Dish Type:
Entrée
Preparation
In small bowl, combine breadcrumbs, parsley, paprika, cayenne, salt and pepper. Set up breading station with a bowl of flour, a bowl of eggs and milk, and the bowl of seasoned breadcrumbs.
Sprinkle both sides of ham steak with salt and pepper; then place in flour to coat. Place meat in egg/milk mixture to coat. Finally, place in bread crumbs and coat. Place meat on clean plate, and repeat.
Heat oil in large skillet over medium heat. Add butter and melt. Cook meat until golden brown, 2 minutes each side. Remove meat to paper towel–lined plate and keep warm. Repeat.
Serve chicken fried ham with gravy.
Ham Gravy:
Add 2 tablespoons oil to skillet with butter, and heat. Add diced ham and sauté until brown. Add onions and garlic, and continue until soft.
Sprinkle flour evenly over hot pan. Using whisk, mix flour with oil, creating a golden-brown paste. Keep cooking until roux reaches a deep golden-brown color.
Pour in milk, whisking constantly. Add salt, lemon juice and cayenne, to taste, and cook, whisking, until gravy is smooth and thick, 5 to 10 minutes.
* This recipe was created by The Culinary Institute of America as an industry service to Smithfield Culinary.
To order, contact your Smithfield Culinary sales representative, call 888-326-7526 or contact us for more information.
Email Recipe