Ham Ramen with Pork Broth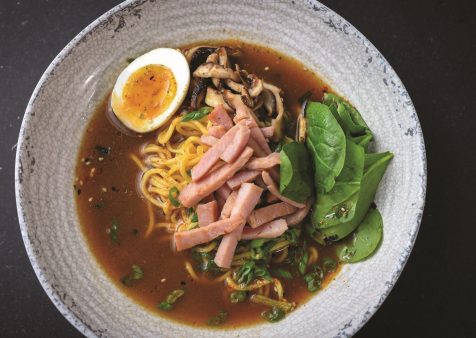 Ingredients
2 qts Pork Broth (recipe follows)
2 Tbsp miso paste
1 lb Smithfield Boneless Ham, julienned
1 pkg ramen noodles, fresh or dried
2 tsp vegetable oil
½ lb shiitake mushrooms, sautéed
6 eggs, soft boiled
Fresh baby spinach leaves
Green onion, cut thin on bias
Toasted sesame oil
Togarashi
1 tsp lime juice
Hot chili oil
Seasoned rice vinegar
Furikake rice seasoning
Pork Broth:
2 Tbsp vegetable oil
1 onion, diced
¼ cup ginger, sliced
8 cloves garlic, crushed
2 lbs Smithfield Ribs
½ lb pork scraps
1 cup Smithfield Boneless Ham, diced
1 leek, sliced
4 scallions, chopped
5 mushrooms, sliced
5 star anise
3 chiles de àrbol, stemmed
8 cups chicken stock
Details
Product:
Smithfield Boneless Ham
Meal Course:
Dinner, Lunch
Dish Type:
Soup/Salad
Preparation
In large pot, add pork broth and miso, mix to combine, bring to boil, and then turn off heat.
Roast julienned ham with oil on sheet pan at 350˚F for 12 minutes. Set aside.
In large pot, bring 6 quarts water to boil. Add ramen noodles to boiling water, and cook according to instructions. When noodles are cooked, remove them, and equally divide them into 4 large soup bowls.
Add a few shiitake mushrooms, ½ a soft-boiled egg, a handful of baby spinach leaves, some scallions, sesame oil, togarashi, lime juice, chili oil, rice vinegar and furikake on top of noodles. Cover each bowl with ¼ of broth. Top with roasted ham strips to each bowl, and serve.
Pork Broth:
In large stockpot over high heat, add vegetable oil, and heat to lightly smoking. Add onions, ginger and garlic, and cook, tossing until deeply charred. Add rib bones and pork scraps, and mix well to combine. Continue cooking until brown. Add diced ham, and cook. Add leeks, scallions, mushrooms, star anise and chiles, and top with chicken stock.
Bring to boil, skimming off any foam. Reduce heat to low for simmer. Continue cooking until broth is slightly viscous, approximately 6 to 8 hours (topping with water to keep bones covered). Strain broth, and cook over medium heat until reduced.
Strain through fine-mesh strainer. Skim fat from top with ladle.
* This recipe was created by The Culinary Institute of America as an industry service to Smithfield Culinary.
To order, contact your Smithfield Culinary sales representative, call 888-326-7526 or contact us for more information.
Email Recipe