Smithfield Culinary is here for you!
During this unprecedented period, Smithfield Culinary is committed to the safety and well-being of our employees and our customers. In addition, we will also endeavor to deliver the same high level of services to continue to meet your needs. Below find some useful links to help you through these challenges we are all facing.
Please be safe and stay well.
Money-Saving Rebates

Save big right now with this selection of products that you can use to create a menu to excite your customers.
SAVE NOW!
Kitchen Coalition Podcasts

Join Chef Michael Ponzio, host of Kitchen Coalition, as he discusses both foodservice challenges and solutions with a variety of chefs and operators across the country.
MEET CHEF PONZIO
Grab 'N Go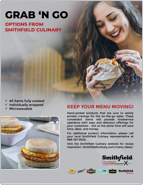 Perfect pick-me-ups for active consumers.
A selection of hand-picked items sure to satisfy customers on the go.
GET GOING HERE
Heat 'N Serve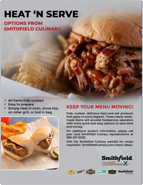 Delicious choices to save time and labor.
Smithfield Culinary offers an extensive variety of ready-to-heat and-eat options to maximize back-of-house efficiencies.
START SAVING
Carnivore-Approved Videos

Enjoy this series of videos featuring our deliciously convenient line of authentically prepared Curly's fully cooked and smoked meat favorites.
GOTTA BE CURLY'S!
Additional Resources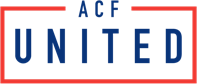 The Ferdinand Metz/American Culinary Federation Relief Fund is committed to providing assistance to foodservice workers across America.
MORE INFO