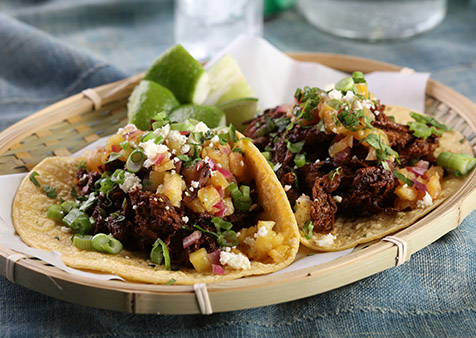 Ingredients
5 guajillo chiles, stemmed and seeded
4 ancho chiles, stemmed and seeded
3 whole garlic cloves, in skin if possible
1 Tbsp Mexican oregano
½ tsp ground cumin
½ tsp black pepper
2-3 Roma tomatoes
½ cup pineapple juice
2 Tbsp cider vinegar
Salt, to taste
1 lb Curly's by Smithfield® Natural Pulled Pork, thawed
6 corn tortillas
1 cup ¼"-diced fresh pineapple, grilled, for garnish
1 cup red onion, ¼"-diced, for garnish
Queso fresco, for garnish
Chopped cilantro, for garnish
Limes, cut into wedges, for garnish
Details
Product:
Pulled Pork
Meal Course:
Dinner
Dish Type:
Entrée
Preparation
In dry skillet over medium heat, add seeded chiles skin-side down, and allow to brown slightly.
Add garlic cloves in skins to chiles, and allow to blister on all sides.
Add seasonings to mixture, and continue to stir for about 2 minutes.
Add whole Roma tomatoes, and blister on all sides.
Remove garlic cloves, and peel them.
Add pineapple juice and vinegar, and allow to come up to high simmer.
Add garlic, without skin, and cover.
Turn off, and allow to steep for 15-20 minutes.
Purée mixture until smooth, and strain.
Season with salt.
Return to skillet, and add pulled pork.
Simmer in sauce to internal temperature of 165°F.
For Taco Assembly, heat tortillas on flat top grill or dry skillet. Add pulled pork mix to heated tortillas. Garnish with grilled pineapple, onions, queso fresco and cilantro. Serve with lime wedges.
To order, contact your Smithfield Culinary sales representative, call 888-326-7526 or contact us for more information.
Email Recipe