Apple, Caramelized Onion and Ham Lettuce Roll-Up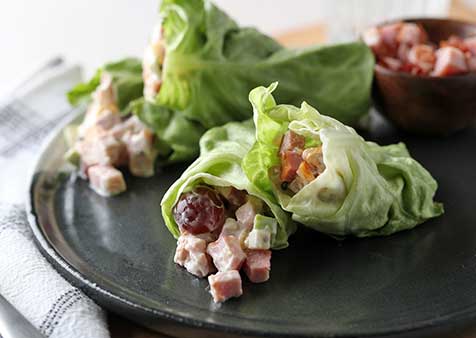 Ingredients
2 white onions, julienned
2 Granny Smith apples, peeled and medium dice
2 cups Lime Mayo (recipe follows)
1 cup red seedless grapes, cut in half
Kosher salt, to taste
8 Bibb lettuce leaves
Lime Mayo:
2 cups mayonnaise
3 oz. lime juice
Zest of limes used for juice
Kosher salt, to taste, if desired
Details
Product:
Ham
Meal Course:
Dinner, Lunch
Dish Type:
Side Dish, Soup/Salad
Preparation
Using sauté pan with some oil, sauté onions on medium-high heat until they are caramelized.
Remove from pan and let cool down in fridge.
Once cool, place onions, apples, Lime Mayo, Ham, grapes and salt into bowl and mix together.
Make sure that everything is evenly coated with mayo.
Lay out lettuce on table and fill each leaf with an even amount of mixture.
Leave about 1/3 of the leaf free of mixture to provide a place to hold the roll-up
Roll up like a burrito.
Use toothpick to hold together, if desired.
Cut in half and serve 2 per person.
Lime Mayo:
Mix all in mixing bowl.
To order, contact your Smithfield Culinary sales representative, call 888-326-7526 or contact us for more information.
Email Recipe