Apple Cider Brined Smithfield Pork Chop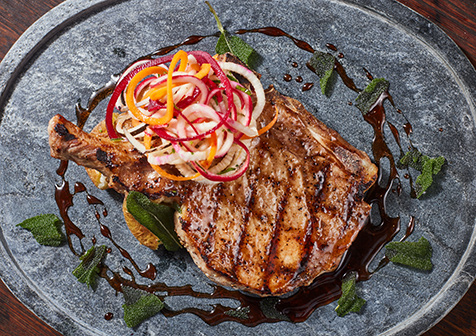 Ingredients
4 Smithfield Fresh Pork Chops, 1-1 ½" thickness
2 cups fresh pressed apple cider
2 Tbsp kosher salt
2 sprigs fresh thyme
4 garlic cloves, smashed
1 lb. mini heirloom potatoes
2 sprigs sage, fresh, chopped
2 Tbsp olive oil
1 large red beet
1 large carrot
4 radishes
1 large black radish
1 lemon, juiced
¼ cup extra virgin olive oil
3 sprigs, fresh, chopped
Details
Product:
Pork Chops
Meal Course:
Dinner, Lunch
Dish Type:
Entrée
Preparation
Warm apple cider in a small sauce pot. Add salt, thyme and garlic. Let steep for approximately 10 minutes.
Transfer warm cider to a plastic zip bag and place in the refrigerator until cold.
Once cider brine is chilled add thick cut pork chops to the bag. Be sure that the pork chops are fully submerged in the brine. Return to refrigerator.
Brine pork chops for 24-48 hours.
Remove pork chops from the brine and pat dry.
Season the pork chops as you regularly would with salt and pepper.
Grill the pork chops over medium heat until desired doneness is achieved.
Toss the mini potatoes with the 2 Tbsp of oil, chopped sage and salt and pepper. Spread onto a parchment lined baking sheet.
Cook potatoes in a 325°F preheated oven for approximately 20 minutes or until potatoes are fully cooked, time will vary based on potato size.
Peel your beet and carrot.
Using a vegetable spiralizer cut all the root vegetables. Snip long strands into manageable sizes.
Combine root vegetables slaw with fresh lemon juice, olive oil and fresh parsley.
Place warm potatoes and pork onto serving dish and top with the vegetable slaw.
To order, contact your Smithfield Culinary sales representative, call 888-326-7526 or contact us for more information.
Email Recipe