Asian Meatballs with Rice Cakes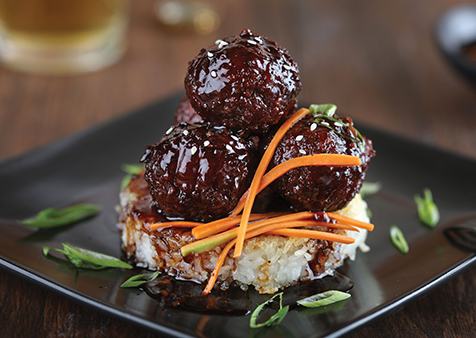 Ingredients
Ingredients:
1 cup medium grain white rice
Korean BBQ Sauce (recipe follows)
2 Packages Smithfield™ Italian Meatballs
1 bunch parsley, minced
¾ cup vegetable oil
carrots, uncooked, julienned for garnish
green onion, julienned for garnish
sesame seeds, for garnish
Korean BBQ Sauce:
1 cup soy sauce
¾ cup dark brown sugar
2 Tbsp minced garlic
1 Tbsp rice wine vinegar
1 Tbsp chile-garlic sauce
1 tsp grated fresh ginger
1 tsp Asian (toasted) sesame oil
1 ½ tsp ground black pepper
1 Tbsp cornstarch
1 Tbsp water
Details
Meal Course:
Dinner, Lunch
Dish Type:
Soup/Salad
Preparation
Cook rice according to package directions.
While rice is cooking, prepare Korean BBQ Sauce.
Stir soy sauce, brown sugar, garlic, rice wine vinegar, chile-garlic sauce, ginger, sesame oil and black pepper together in saucepan; bring to boil.
Whisk cornstarch and water together in small bowl until cornstarch dissolves; pour into boiling soy sauce mixture. Reduce heat to medium-low, and cook until sauce is thick, 3 to 5 minutes. Set aside.
Heat meatballs according to package directions. Add Korean BBQ sauce, and simmer on low until ready to plate.
After rice is done cooking, but still warm, pack firmly into a 3 ½-inch pastry ring to form rice cake; remove from ring and set aside. Heat oil in small skillet over medium-high heat. Fry rice cakes on each side until crispy, approximately 4-5 minutes on each side.
To serve, place 1 rice cake on serving plate, and top with 4 meatballs. Drizzle a bit of extra sauce over cake and garnish with carrots, green onions and sesame seeds.
To order, contact your Smithfield Culinary sales representative, call 888-326-7526 or contact us for more information.
Email Recipe