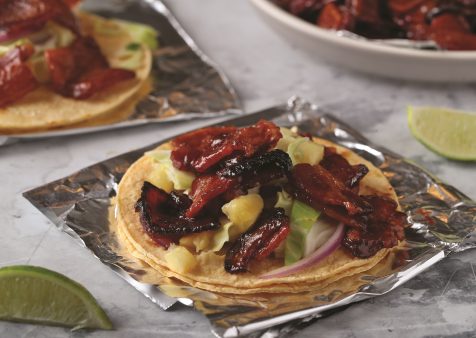 Ingredients
2 lbs. Smithfield Ready to Eat Sliced Bacon
2 tsp. honey
½ cup barbecue sauce
½ cup chicken stock
12 corn tortillas
Pineapple Slaw (recipe follows)
2 limes, quartered
Pineapple Slaw
½ head cabbage
2 cups diced pineapple
½ red onion, shaved
2 green onions, sliced
2 limes, juice only
2 tsp. kosher salt
Preparation
Preheat oven to 250°F.
Cut bacon into 1½-inch pieces and spread on sheet pan.
In bowl, combine honey, barbecue sauce and stock, and pour over bacon.
Cover with foil, and cook in oven for another 25 minutes.
Remove foil, stir bacon, and cook for 15 more minutes until glazed and sticky.
Heat tortillas on each side in pan, and place 2 tortillas on top of each other.
Top with bacon mixture and Pineapple Slaw.
Garnish with limes, and serve.
Pineapple Slaw:
Shave cabbage thinly, and place in bowl.
Combine remaining ingredients with cabbage, and mix well.
To order, contact your Smithfield Culinary sales representative, call 888-326-7526 or contact us for more information.
Email Recipe