BBQ Belly Cornbread Fritters Appetizer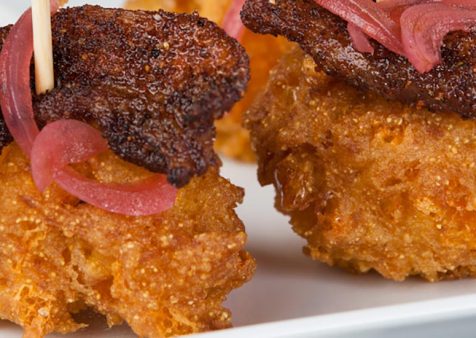 Ingredients
Pickled Red Onions
1 cup pomegranate infused red wine vinegar
1/2 cup agave nectar
1 tsp. kosher salt
1/2 tsp. minced garlic
8 oz. thinly sliced red onions
Cornbread Fritters
1 cup (4 oz.) shredded Cheddar cheese
1 cup all-purpose flour
2/3 cup self-rising yellow cornmeal mix
3 Tbsp. sugar
1/2 tsp. baking soda
1 (8.5-oz.) can creamed corn
1 egg, beaten
1/4 cup butter, melted
1 lb. Skinless Pork Belly
3 Tbsp. BBQ seasoning blend
Details
Product:
Pork Belly
Meal Course:
Dinner, Lunch
Dish Type:
Appetizer
Preparation
To make pickled onions, combine vinegar, agave nectar, salt and garlic in medium non-reactive saucepan. Bring to a boil over high heat; stir in onions. Bring back to a boil; remove pan from heat. Cover and refrigerate 24 hours.
Cut pork belly into thin strips (about 1/4-inch thick). Cut each strip into 3 pieces; coat all sides with BBQ seasoning.
To make cornbread fritters, combine dry ingredients in medium bowl; make well in center. Add remaining ingredients into well of dry ingredients; stir to combine.
Heat deep fryer oil to 325°F. Deep fry pork belly strips 2 to 3 minutes until done. Drop fritter batter by tablespoons into oil; fry 2 1/2 to 3 minutes, turning over after 1 minute to brown evenly. Drain on paper towels.
To serve, skewer belly strip on top of fritter. Garnish with pickled onions and barbecue sauce.
To order, contact your Smithfield Culinary sales representative, call 888-326-7526 or contact us for more information.
Email Recipe