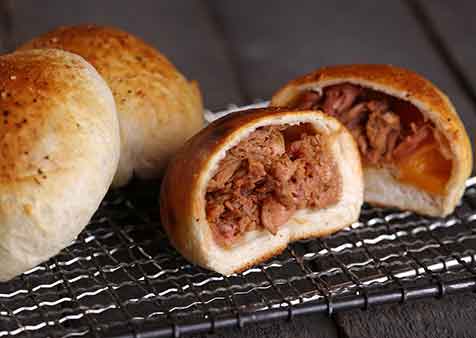 Ingredients
¼ cup BBQ sauce
8 jumbo refrigerator biscuits
1 lb. shredded cheddar cheese
½ cup melted butter
BBQ rub, as needed
Details
Product:
Pulled Pork
Meal Course:
Dinner, Lunch
Dish Type:
Entrée, Sandwich
Preparation
Preheat oven to 350°F.
Combine pork shoulder (cold) and BBQ sauce in bowl. Mix until pork is finely shredded.
Place 1 refrigerator biscuit on plate, press down and stretch out until double in size. Place 1 oz. sauced BBQ meat in middle of dough. Top with 1 oz. shredded cheddar cheese. Fold biscuit over meat/cheese, and seal. Fold ends in and roll over so all seams are on bottom. Repeat procedure until all kolaches are made.
Place kolaches on greased baking sheet, seam-side down. Bake at 350°F for 13 to 17 minutes or until kolaches are golden brown. Remove from oven, brush tops with melted butter and sprinkle light coating of BBQ rub on top.
Serve warm. Kolaches can be cooled down, stored in refrigerator, and reheated as needed.
To order, contact your Smithfield Culinary sales representative, call 888-326-7526 or contact us for more information.
Email Recipe