Beer-Steamed Littleneck Clams with Crispy Ham, White Beans & Kale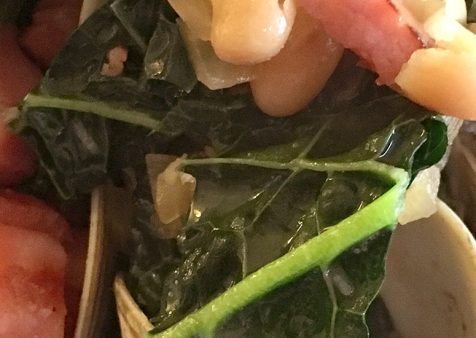 Ingredients
3 dozen littleneck clams, thoroughly cleaned of all sand and grit
½ lb. Ham, cut into ¼ inch cubes
1 bunch lacinato kale, washed, stemmed, and cut into thick strips
1 15 oz. can white beans, drained and rinsed
½ baguette, cut into four pieces, and toasted right before serving the dish
1 can or bottle beer, whatever kind you like
½ cup small diced Spanish onion
3 cloves garlic, minced
4 Tbsp. cold unsalted butter
Details
Product:
Ham
Meal Course:
Lunch
Dish Type:
Entrée
Preparation
In a large skillet, heat the oil over high heat. Add the Ham, scattering it evenly; cooked until browned, turning occasionally. When the ham is brown and crispy, transfer to a paper towel-covered tray or plate to drain off excess fat. In the same skillet, sweat the onions and garlic until fully cooked and set aside.
In a medium-sized pot, bring the beer to a boil; add the washed clams, reduce heat to medium and cover. Leave covered for about four minutes, then add the kale, white beans, ham, onions and garlic and stir.
Recover the pot and continue steaming for 1-2 minutes. The clams should be fully opened, the kale should be wilted, and the beans should be heated through.
Using a slotted spoon, remove the clams and portion out evenly into four bowls, 9 clams per person. Return the pot to high heat and bring back to a boil quickly; reduce heat to medium. Swirl in the cold butter, emulsifying completely- the sauce should thicken slightly, but shouldn't break.
Pour the sauce evenly into each bowl, along with the ham, beans and kale. Put a piece of toast on top of each serving.
To order, contact your Smithfield Culinary sales representative, call 888-326-7526 or contact us for more information.
Email Recipe