Bourbon-Glazed Pork Belly Biscuit Sliders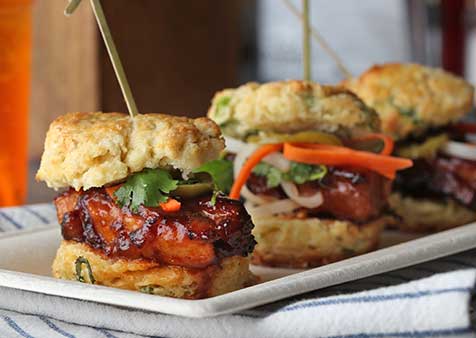 Ingredients
1 lb. Pork Belly
1 Tbsp. salt
1 qt. chicken stock
1 cup dry white wine
1/4 cup soy sauce1 medium onion, sliced
1 knob ginger
3 cloves garlic, crushed
1/2 cup brown sugar
4 whole peppercorns
2 whole bay leaves
Buttermilk Cheddar Biscuits:
2 cups all-purpose flour, plus more as needed
1 Tbsp. baking powder
1.5 tsp. kosher salt
12 Tbsp. cold unsalted butter, shredded
1/2 cup cold buttermilk
1 cold extra-large egg
1 cup grated extra-sharp cheddar
2 Tbsp. chopped chives
1 egg, beaten with 1 Tbsp. water or milk
Kosher salt (to top biscuits)
Pickled Vegetables:
1 small daikon, julienned
2 pieces carrot, julienned
1 jalapeño, thinly sliced, seeded
1 cup rice wine vinegar
Bourbon Glaze:
1 cup Bourbon
1/2 cup Pork Belly braising liquid (from recipe above) (or chicken stock)
1 star anise
4 Tbsp. ketchup
2 Tbsp. soy sauce
2 Tbsp. honey
1 Tbsp. chopped chives
To Plate:
1 lb. braised Pork Belly, cut into 2-oz. portions (recipe above)
1/4 cup vegetable oil
1/2 cup Bourbon Glaze (recipe above)
8 buttermilk biscuits, cut in half
1/2 cup Pickled Vegetables (recipe above)
Details
Product:
Pork Belly
Meal Course:
Dinner, Lunch
Dish Type:
Appetizer, Entrée, Sandwich
Preparation
Season Pork Belly with salt.
Place Pork Belly into bottom of pressure cooker. Cover with chicken stock, white wine and soy sauce.
Add onions, ginger, garlic, sugar, peppercorns and bay leaves.
Bring to boil. Add top of pressure cooker. Allow to come to full steam.
Reduce heat and cook for 45-60 minutes.
Remove from heat and allow to cool for 20 minutes. Remove lid and allow pork to cool in liquid.
Buttermilk Cheddar Biscuits:
Preheat oven to 425°F.
Place flour, baking powder and salt in bowl. Using spoon, add butter and mix until butter is size of peas.
Combine buttermilk and egg in small measuring cup and beat lightly with fork. Quickly fold buttermilk mixture into flour mixture and mix only until moistened. Let rest for 10 minutes, covered, in refrigerator.
Place onto floured work surface. Roll dough to approximately 1/2-inch thick. Using 2-inch round cutters, cut biscuits out into circles and place onto parchment-lined sheet tray.
Brush with egg wash and sprinkle with additional kosher salt.
Bake for 20-25 minutes until golden brown and biscuits are cooked through.
Pickled Vegetables:
Place vegetables into bowl, bring vinegar to boil and pour over vegetables. Let cool.
Bourbon Glaze:
In small saucepot, over medium heat, combine all ingredients. Simmer until thickened, approximately 5-7 minutes.
To Plate:
Heat 2 oz. oil in pan over medium heat. Add Pork Belly portions. Brown on both sides until golden brown, approximately 5-7 minutes.
Remove excess oil from pan. Deglaze with Bourbon Glaze.
Place biscuits on serving platter. Place into warm oven to heat through, approximately 7 minutes.
Place Pork Belly on bottom half of biscuit. Top with Pickled Vegetables and top with other half of biscuit.
To order, contact your Smithfield Culinary sales representative, call 888-326-7526 or contact us for more information.
Email Recipe