Braised Pork Belly with Housemade Apple Butter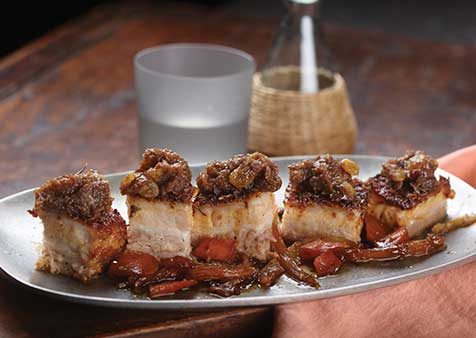 Ingredients
Braised Pork Belly:
4 oz dark brown sugar
1 oz fennel seed, ground
1 1/2 oz rosemary, coarsely chopped
1/2 oz crushed red pepper, ground
8 fl oz orange juice
8 oz mirepoix, coarsely chopped
Remouillage, as needed
1 thyme sprig, whole
salt and pepper, to taste
Apple Butter:
4 lbs Fuji apples, peeled and cored
1 lb Granny Smith apples, peeled and cored
1/2 Tbsp ground cinnamon
1/2 tsp ground clove
1/4 tsp ground all spice
8 oz dark brown sugar
8 oz raisins, optional

Details
Product:
Pork Belly
Meal Course:
Dinner
Dish Type:
Entrée
Preparation
For Braised Pork Belly, combine sugar, fennel seed, rosemary and crushed red pepper. Set aside.
Season pork belly with salt and pepper on both sides. Then season fat side of belly with season mix.
Place in a 200 pan, place in a 400°F oven, and sear about 20 minutes or until golden brown.
Remove belly from oven and then the 200 pan, deglaze with orange juice, and then put in mirepoix and place belly on top, fat-side up.
Pour in as much remouillage as it takes to cover belly 1/3 up its side. Add thyme and place in 300°F oven until very tender, about 2 hours.
Slice braised pork belly into cubes, and top with apple butter.
For Apple Butter, mix sliced apples with cinnamon, clove, all spice and brown sugar.
Fill pot with 1-inch of water, add apple and spice mixture.
Bring to simmer, cook until soft, and puree.
Add raisins, pour mixture into 200 pan and place in 300°F oven for 3-5 hours until desired consistency.
To order, contact your Smithfield Culinary sales representative, call 888-326-7526 or contact us for more information.
Email Recipe