Breakfast Ham "Taco" with Salsa Verde and Pickled Red onions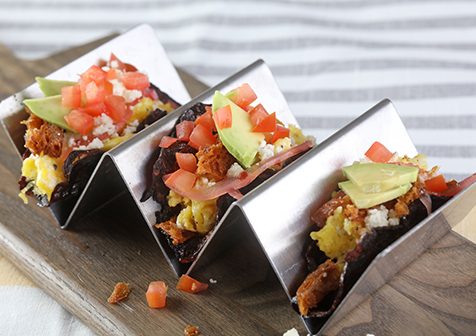 Ingredients
Tomatillo Sauce:
3 tomatillos, husk removed, rinsed, quartered
1 small yellow onion, diced
1 bunch cilantro, rough chopped
1 lime juiced
Salt and pepper to taste
Pickled Red Onions:
¼ cup sugar
1 tsp kosher salt
¼ cup red wine vinegar
½ red onion, sliced thin
Taco:
1 cup vegetable oil
4 eggs, scrambled
3 Roma tomatoes, small dice
½ cup sour cream
½ lb.queso fresco, crumbled
2 Tbsp. Cilantro leaves
Details
Product:
Ham
Meal Course:
Breakfast
Dish Type:
Entrée, Sandwich
Preparation
Tomatillo Sauce:
Place tomatillos and onions in a medium sauce pot and add enough water to just cover. Bring to a boil, reduce to a simmer, and cook until tomatillos are softened, approximately 6 minutes.
Remove from heat and strain off liquid. Transfer ingredients to a blender along with cilantro and lime juice. Puree until smooth and season to taste with salt and pepper.
Pickled Red Onions:
In a small sauce pan, combine sugar, salt, and red wine vinegar.
Bring to a boil to dissolve sugar and salt. Remove from heat and pour over red onions. Allow to cool before using.
"Tacos":
In a medium Sautee pan over medium high heat, add oil and allow to heat until shimmering. Add Ham to pan and cook until caramelized and heated through. Remove and reserve.
To assemble: Shape each ham piece into a taco shape and top with scrambled eggs, tomatoes, pickled onions, salsa verde, sour cream, queso fresco, and garnish with cilantro leaves.
To order, contact your Smithfield Culinary sales representative, call 888-326-7526 or contact us for more information.
Email Recipe