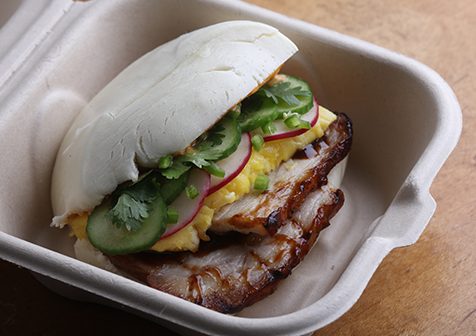 Ingredients
Quick Pickled Cucumber/Radish:
4 radishes, thinly sliced
2 pickling cucumbers, thinly sliced
1 Tbsp kosher salt
2 tsp sugar
Roasted Pork Belly:
2 lb. pork belly
¼ cup salt
¼ cup sugar
2 lemons, zested
2 Tbsp vegetable oil
½ jalapeno, seeded, diced
2 ea. Whole eggs, beaten
8 leaves Cilantro leaves, chopped
2 steam buns
2 oz Sriracha Sauce
1oz Hoisin Sauce
2 ea. Scallions, sliced on bias
Details
Product:
Pork Belly
Meal Course:
Breakfast
Dish Type:
Entrée, Sandwich
Preparation
Quick Pickled Cucumber/Radish:
In a small bowl, toss radish and cucumbers with salt and sugar. Allow to sit for one hour at room temperature. Place in refrigerator to cool
Roasted Pork Belly:
Mix together sugar, salt, and lemon zest. Rub over pork belly and allow to cure for 6 hours refrigerated.
Turn oven to 450F. Rinse Belly and pat dry
In a roasting pan, place belly fat side up, and roast for 45-60 minutes, until golden brown
Lower temp of oven to 250 and roast for an additional 60-90 minutes.
Allow belly to cool to room temp, wrap in plastic wrap, and place in cooler
Slice chilled belly into quarter inch slices. reserve
Buns:
Set up a steamer, or a colander over a pot of water with lid. Bring water to a boil, place buns in steamer and cook until softened and warm, approximately 4 minutes.
Heat a sauté with oil. Add pork belly and cook on both sides until golden brown and crispy. Remove and reserve.
In non-stick, heat oil and add in jalapeno. Slightly sauté, add eggs, season with salt and continuously stir with rubber spatula until soft set scrambled. Fold in cilantro.
On Bun, place sriracha, one piece of belly, eggs, cucumber, Radish, Cucumber and hoisin.
Garnish with scallions, fold and serve.
To order, contact your Smithfield Culinary sales representative, call 888-326-7526 or contact us for more information.
Email Recipe