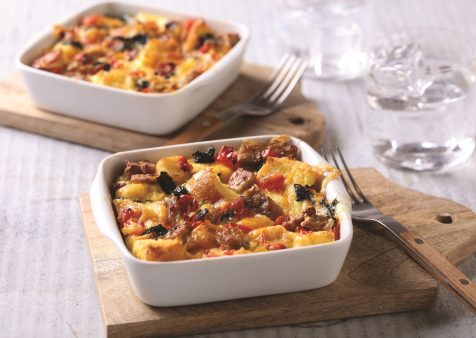 Ingredients
2 plum tomatoes, cored and halved
1 Tbsp. olive oil
Salt and pepper, to taste
½ cup chopped Smithfield Fully Cooked Breakfast Sausage Patties
½ cup shredded smoked cheddar cheese
½ cup chopped blanched, drained baby spinach
1½ cups milk
5 eggs, whisked
4 cups 1-inch cubed white bread
Hollandaise
2 oz. unsalted butter
1 egg yolk
1 tsp. lemon juice
Preparation
Toss tomatoes with olive oil, salt and pepper, and lay out flat on sheet tray. Roast tomatoes at 325°F until skin blisters, remove them, and pull off their skin. Let tomatoes cool before chopping to small dice.
Combine sausage, cheddar, spinach, tomatoes, milk, eggs and bread, and let sit for 5 minutes.
Scoop mixture evenly into ramekins, and cook for 35 minutes.
Just before serving, top with Hollandaise.
Hollandaise:
Melt butter over medium heat until it bubbles.
Combine ingredients in blender, and set on high for about 30 seconds.
To order, contact your Smithfield Culinary sales representative, call 888-326-7526 or contact us for more information.
Email Recipe