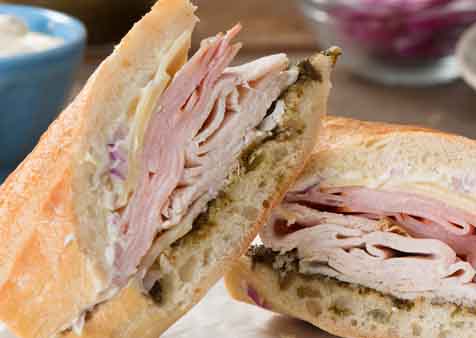 Ingredients
0.5 oz. honey nut cream cheese spread
4-inch white baguette, sliced lengthwise
1.5 oz. sliced Apple Cinnamon Pork Loin
1 oz. thinly sliced Honey Ham
0.5 oz. Jamaican jerk sauce
0.4 oz. thinly sliced red onion
Caribbean jerk seasoning
1 (0.5-oz.) slice Swiss cheese
Details
Product:
Ham, Pork Loin
Meal Course:
Lunch
Dish Type:
Entrée, Sandwich
Preparation
Spread cream cheese onto heel of bread. Place pork loin and ham on top.
Spread jerk sauce onto crown of bread. Top with onion and sprinkle with jerk seasoning. Add cheese.
Broil heel and crown until heated and cheese is melted. Close sandwich to serve.
To order, contact your Smithfield Culinary sales representative, call 888-326-7526 or contact us for more information.
Email Recipe